Finding the perfect 15ft trampoline for your backyard can be exciting and challenging. These trampolines strike a balance between size and usability, offering ample space for kids and adults to enjoy hours of bouncing fun.
Designed with safety, durability, and performance in mind, the best 15ft trampolines feature sturdy frames, quality springs, and safety enclosures.
They also come with UV-resistant padding to withstand outdoor elements. The 15ft size is ideal for accommodating multiple jumpers and has a generous weight capacity for both children and adults.
In this article, we'll explore the key features, benefits, and considerations to help you choose the best 15ft trampoline for your needs. Get ready to add joy and excitement to your outdoor space!
Best 15ft trampoline: The best 15 ft trampoline balances quality, safety, and functionality. It boasts a robust, rust-resistant frame, a durable jumping mat, and plenty of high-quality springs for optimal bounce. Essential safety features include sturdy enclosure nets, thick padding over springs, and a stable structure.
Our Top 3 Picks
Here are our top 3 picks:
1
Happy Trampoline
2
Upper Bounce
3
Springfree
5 Best 15Ft Trampoline: Expert Reviews 2024
When it comes to finding the best 15-foot trampoline, there are a few key factors to consider. Here are some features to look for in a top-quality 15-foot trampoline:
Best Heavy Weight Trampoline- Happy Trampoline Gymnastic
Best Outdoor Trampoline- Upper Bounce Rectangle 
Best Backyard Trampoline – Springfree Trampoline Kids Jumbo 
Best for Children –  Zupapa No-Gap Design 15FT Trampoline
Best For Kids- CalmMax Trampoline  15FT Jump 
1. Best Heavy Weight Trampoline – Happy Trampoline Gymnastic 
Specifications:
If you have aspiring Olympic gymnasts in your family, let me tell you about a trampoline that has been a game-changer for me. This professional-grade rectangular trampoline is an absolute delight, designed with competitive jumpers or gymnasts in mind. With its impressive size and top-notch construction, it's the perfect training tool for any gymnast aiming for gold.
Superior Construction for Elite Performance
The 10-foot by 20-foot frame of this trampoline is crafted from commercial-grade double-dipped galvanized steel, both inside and out, ensuring exceptional durability and resistance to rust and corrosion.
This sturdy build ensures that it can withstand intense training sessions and repetitive use without compromising safety or performance.
Unmatched Warranty for Peace of Mind
Considering the hefty price tag, it's reassuring to know that this model comes with a lifetime warranty. This warranty not only speaks to the manufacturer's confidence in the product's quality but also provides peace of mind for any gymnast or their family investing in this trampoline.
2. Best Outdoor Trampoline – Upper Bounce Rectangle 
Specifications:
 I recently came across the Machrus Upper Bounce rectangular trampoline set, and it has been a game-changer for my family's outdoor activities. Designed with a large square shape, it offers ample space for multiple users while ensuring they can maintain a safe distance from each other. With its impressive dimensions of 9 by 15 feet and sturdy construction, this trampoline is a perfect addition to any backyard.
Safe and Sturdy Construction
The trampoline features a thick-gauge steel frame with a powder coating, adhering to ASTM standards and providing excellent rust resistance. It is supported by four W-shaped legs and eight curved poles, along with 90 curved, galvanized springs to prevent sagging.
With a weight capacity of up to 500 pounds, it can easily accommodate multiple users, ensuring a fun experience for the entire family.
Comfort and Safety in Mind
To enhance safety and comfort, the poles are covered with foam and vinyl, providing cushioning to prevent accidental bumps. The mat is made of propylene mesh material, which offers durability and a responsive bounce.
Additionally, the safety pad consists of an inch of foam, adding an extra layer of protection during jumps and play.
3. Best Backyard Trampoline – Springfree Trampoline Kids Jumbo 
Specifications:
As a concerned brother who wants the best for my sibling's outdoor playtime, I've discovered the perfect solution to address the safety concerns associated with classic trampolines. The Springfree Trampoline offers an innovative design that eliminates the risk of pinched skin or trapped hands and feet, ensuring a worry-free and enjoyable jumping experience.
Revolutionary Design for Enhanced Safety
One of the downsides of traditional trampolines is the potential for injury caused by metal springs. However, the Springfree Trampoline has tackled this issue head-on with its unique composite rod design.
Replacing traditional springs with these composite rods eliminates the risk of pinching or trapping, providing peace of mind for both jumpers and parents.
Protective Features for a Secure Play Area
The Springfree Trampoline takes safety to the next level with additional protective features. The jumping surface is supported by the composite rods and features a soft edge, specifically designed to safeguard children's feet from accidental impacts.
Furthermore, the enclosure net is reinforced with flexible rods, effectively preventing jumpers from falling off the side and ensuring a secure jumping environment.
4. Best for Children –  Zupapa No-Gap Design 15FT Trampoline 
Specifications:
I found a really great trampoline called the Zupapa 10-Feet Trampoline that combines fun and safety. It's a trusted choice for parents and families because it meets the strict safety standards set by ASTM and TÜV. I tested it thoroughly and I can confidently say that it's very reliable, high quality, and comes in different sizes. So, I highly recommend this trampoline.
Safety Features: Jump with Confidence
The Zupapa trampoline prioritizes your jumping safety with its well-thought-out design. The jumping mat and padded spring cover seamlessly connect in a gap-free manner, eliminating any spaces that may cause concern for hands or feet getting stuck.
Additionally, the trampoline is enclosed by a tall net, providing a protective barrier to prevent accidental falls off the edge. Rest assured, you can jump with confidence on this trampoline.
Superior Jump Quality: Extra Bounce and Excitement
Thanks to its excellent spring quality and volume, the Zupapa trampoline delivers a fantastic jump quality. It maintains a high level of bounce, keeping the fun and excitement alive with every jump. Get ready to experience an exhilarating and lively jumping experience on this trampoline.
Versatile Sizing Options: Find Your Perfect Fit
The Zupapa trampoline is available in multiple sizes – 8-, 12-, 14-, and 15-foot models. This allows you to choose the ideal size that suits your backyard space and specific needs.
No matter which size you select, rest assured that all Zupapa trampolines are sturdy and capable of accommodating multiple children.
The 8-foot model boasts a maximum weight capacity of 375 pounds, while the larger sizes can support up to 425 pounds, catering to various age groups and family members.
5. Best For Kids – CalmMax Trampoline  15FT Jump 
Specifications:
I've been searching for a trampoline for myself, and I found a really good one that works well in big areas. It comes in different sizes, so you can choose the one that suits you. This trampoline has lots of cool features and advantages, making it a great choice for both kids and grown-ups.
Multiple Sizes and Inclusive Ladder
This trampoline is available in a range of sizes, from 8 feet to 16 feet, ensuring there's an ideal fit for every backyard. What's even better is that starting from the 10-foot size, the trampoline comes with a convenient ladder for easy entry and exit.
This thoughtful inclusion enhances the overall user experience.
Safety and Durability
Designed exclusively for outdoor use, this trampoline features a safety enclosure net that connects seamlessly to the spring cover, eliminating any gaps that could potentially cause accidents.
The steel frame and jumping mat are included with all models, ensuring a sturdy and reliable structure. It can support up to 400 pounds of individual weight, making it suitable for both children and adults who want to enjoy the bouncing fun.
Quality Assurance and Warranty
This trampoline is really good and you don't have to worry about it breaking easily. The frame has a warranty for 3 years, and the mat and springs have a warranty for 2 years.
That means it will last a long time. If you ever have any problems, the customer service is known for being helpful and quick to respond.
Essential Features to Look for in a 15 ft Trampoline
A trampoline isn't just a purchase; it's an investment in fun, health, and family time. That's why choosing a 15 ft trampoline involves more than picking the first option you see online or in a store.
You want to make sure you're getting a quality product that's safe, durable, and easy to use. Here are some essential features you need to consider when looking for the best 15 ft trampoline.
Quality of Materials
The quality of materials used in constructing a trampoline is a crucial factor to consider as it largely determines the trampoline's durability, safety, and performance. Here's a breakdown of the key components to focus on:
The durability of the Frame
The frame is arguably the most critical part of the trampoline. It bears the weight of the jumpers and withstands the rigors of use and weather conditions.
A good frame should be made of high-grade steel that's resistant to rust and corrosion. Also, look for a frame that's galvanized, which provides an extra layer of protection.
The joints of the frame should fit securely and be reinforced for added strength. The design of the frame can also add to its durability. For instance, a W-shaped leg design can offer more stability than a U-shape.
Quality and Durability of the Jumping Mat
The jumping mat or bed is where all the action happens, so its quality is paramount. A good jumping mat is typically made from UV-resistant polypropylene or PVC, materials that can withstand repeated bouncing and exposure to sunlight.
The stitching of the mat should also be sturdy to handle high stress during use. Some mats are cross-stitched for added strength and durability.
The Type and Longevity of the Springs
Springs contribute to the bounce of the trampoline. High-quality trampolines often use galvanized steel springs for superior rust resistance and durability. The number of springs and their length also affect the bounce.
Generally, more and longer springs result in a higher bounce. When considering springs' longevity, ensure they are securely attached and have a protective coating to prevent premature wear and rust.
Safety Features
When it comes to trampolines, safety should always be paramount. Regardless of how fun or enticing a trampoline may be, if it lacks essential safety features, it can pose a risk. Here are some safety features to consider:
Enclosure Nets
A safety net is a must-have feature for any trampoline, as it prevents jumpers from accidentally bouncing off. The net should be made of durable, UV-resistant material, and have a secure, user-friendly entry and exit mechanism.
Some trampolines feature nets that attach directly to the jumping mat, providing an additional safety layer by eliminating gaps where a user could potentially land on springs or the frame.
Padding Over Springs
Padding is a crucial safety feature that covers the springs and the frame, reducing the risk of injury. The best padding is thick, weather-resistant, and covers all springs completely. Quality trampoline pads are typically made of durable, UV-resistant PVC and filled with high-density foam.
Stability of the Trampoline Structure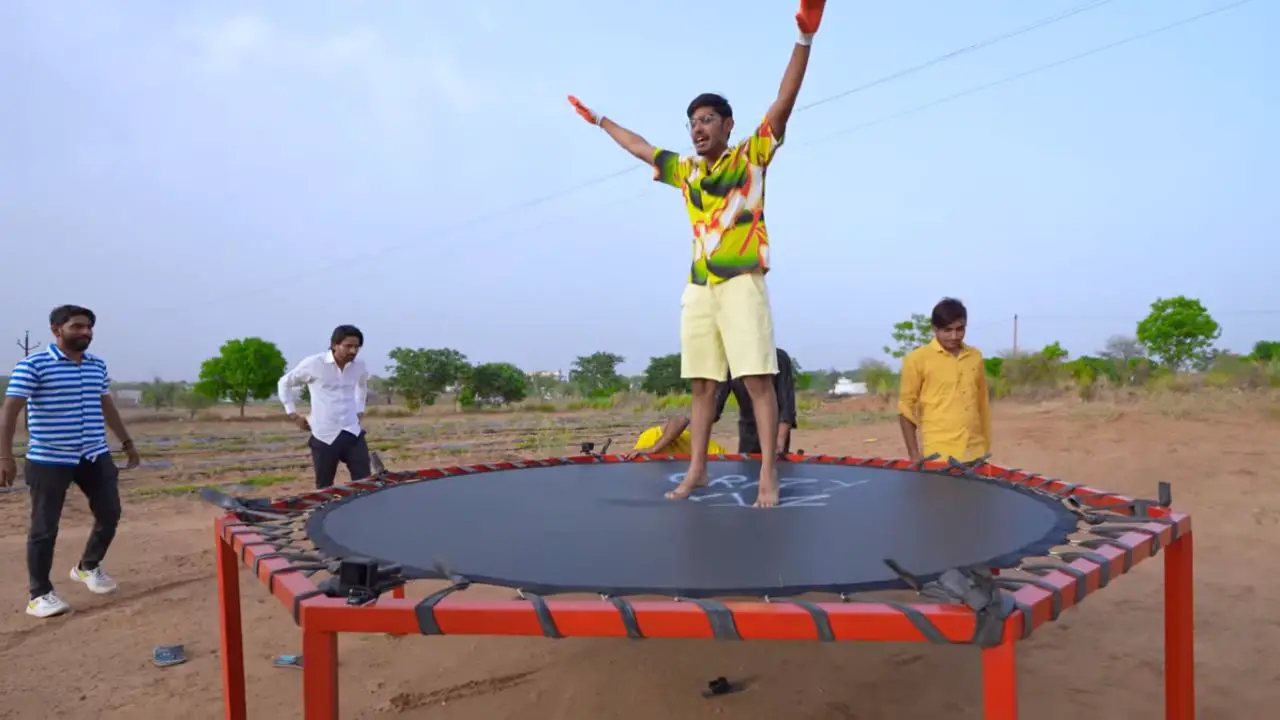 Stability plays a crucial role in safety. Look for a trampoline with a sturdy frame and strong legs that prevent wobbling or tipping, even during vigorous use.
Some trampolines come with ground anchors or stakes to secure them further.
Weight Limit
The weight limit of a trampoline indicates the maximum weight it can safely handle. For a 15 ft trampoline, the weight limit is typically around 200-400 lbs, but this can vary between brands and models.
Always ensure the trampoline you choose can support the weight of its intended users to ensure safety and prolong the lifespan of the trampoline.
Ease of Assembly
Last but not least, consider how easy the trampoline is to assemble. Detailed, clear instructions and labeled parts can save you a lot of time and frustration. Some trampolines even come with special tools to assist in the assembly process.
A model with a straightforward assembly can mean getting to the fun faster and ensuring that every part is correctly installed for maximum safety and longevity.
Accessories and Extras for Your 15 ft Trampoline
While the trampoline itself is the main attraction, several accessories can enhance its safety, functionality, and longevity. These extras can provide a better and safer jumping experience, protect your trampoline from the elements, and even add more fun for your family.
Let's explore some of the common trampoline accessories and their benefits.
Trampoline Ladders
While a 15-foot trampoline might not seem that high off the ground, it can be quite a leap for young children. That's where trampoline ladders come into play. They provide an easy and safe way for jumpers to climb on and off the trampoline, reducing the risk of accidents or injuries.
Trampoline ladders are typically made from materials like steel or hard plastic, and they are designed to be durable and weather-resistant. Some even feature flat steps or anti-slip materials for added safety.
When selecting a ladder, make sure it's the right height for your trampoline and sturdy enough to support the weight of the users.
Weather Covers
Weather covers, also known as trampoline covers, are used to protect the trampoline from the elements when not in use. A quality cover can shield the jumping mat, springs, and padding from rain, snow, UV rays, and other weather conditions, extending their lifespan.
Weather covers are usually made from durable, weather-resistant materials like PVC or polyethylene. They're designed to fit snugly over your trampoline and often feature drawstrings or straps for secure attachment. Some even come with drain holes to prevent water from pooling on the surface.
Trampoline Anchors
Trampoline anchors or stakes help to secure your trampoline to the ground, preventing it from moving or tipping over during use or in high winds. This is particularly important for larger trampolines like the 15 ft models, as their size makes them more susceptible to wind.
Trampoline anchors are generally made from strong, durable materials like galvanized steel. They can come in different styles, including corkscrew stakes that twist into the ground and straight stakes that are hammered in.
Regardless of the type, they should be installed correctly, typically at each leg, to ensure maximum stability.
Other Available Add-Ons and Their Benefits
Aside from the essential accessories mentioned above, other add-ons can enhance the fun and usability of your trampoline.
Trampoline Basketball Hoops: These attach to the safety net enclosure, allowing users to enjoy a game of basketball while jumping. Just make sure the basketball is soft and lightweight to prevent injuries.
Trampoline Tent: A trampoline tent covers the entire trampoline, turning it into a fun-filled camping spot or playhouse for kids. It's great for sleepovers, shade during hot days, or protection from light rain.
Trampoline Bounce Boards: These are special boards designed for safe use on a trampoline. They're perfect for practicing skateboarding, wakeboarding, or snowboarding tricks.
Trampoline Lights: These can be hung around the enclosure net or placed underneath the trampoline to create a calm, glowing effect for evening bouncing sessions.
Safety Precautions and Maintenance Tips for a 15 ft Trampoline
A trampoline can be a source of fun and fitness for the whole family, but it's important to remember that safety should always come first. Additionally, regular maintenance can extend your trampoline's lifespan, ensuring that it stays safe and enjoyable for years to come.
Basic Safety Guidelines for Trampoline Use
Supervise Children: Always have an adult present when children use the trampoline. Young children especially need supervision to ensure they're using the trampoline correctly and safely.
One at a Time: It might seem fun to have multiple people bouncing at once, but this can result in collisions and accidents. It's safer to have one person use the trampoline at a time.
No Flips or Somersaults: While it might be tempting to try out some advanced moves, flips and somersaults can lead to severe head and neck injuries. Keep to simple jumps unless professional training and supervision are provided.
Use Safety Equipment: Always use the trampoline's safety net and ensure it's correctly installed and in good condition. If your trampoline comes with other safety features like padding over the springs, make sure they're in place before jumping.
Clear the Area: Make sure the area around the trampoline is clear of hazards like furniture, trees, or other objects that a jumper could hit if they fell off.
Recommendations for Maintaining the Trampoline to Ensure Longevity
Regular Inspection: Regularly inspect the trampoline for any signs of wear or damage. Check the jumping mat, springs, frame, and safety net for any tears, rust, or other damage. If you find any issues, repair or replace the affected parts before using the trampoline again.
Cleaning: Keep the trampoline clean by regularly wiping down the frame, springs, and safety net with a damp cloth. For the jumping mat, use mild soap and water to clean it, but make sure it's thoroughly dry before using it again to prevent slipping.
Weather Protection: If possible, disassemble and store your trampoline indoors during extreme weather conditions or the off-season to protect it from damage. If that's not feasible, use a weather cover to protect it from rain, snow, and sun.
Spring Care: Ensure springs are well-maintained. Lubricate them occasionally with a rust-preventative spray to keep them functioning well.
Anchor the Trampoline: Use trampoline anchors to secure your trampoline to the ground, particularly in areas prone to high winds. This can prevent your trampoline from getting blown away and damaged.
Related article: 5 Best 6ft Trampoline
FAQs
Q.1 What is a 15ft trampoline?
A 15ft trampoline refers to the size of the trampoline's jumping surface, which measures 15 feet in diameter. It is a popular size for medium to large-sized yards and provides ample space for multiple users to jump simultaneously.
Q.2 What makes a trampoline the "best"?
The term "best" can vary based on individual preferences and needs. However, some common features of the best 15ft trampolines include high-quality construction, sturdy frame, durable springs, safety enclosures, UV-resistant padding, weight capacity, and ease of assembly.
Q.3 What are the weight restrictions for a 15ft trampoline?
Weight restrictions can vary depending on the specific trampoline model. However, most 15-foot trampolines can typically accommodate between 250 to 300 pounds of weight. It's important to check the manufacturer's guidelines for the specific trampoline you are considering.
Q.4 Can adults use a 15ft trampoline?
Yes, a 15ft trampoline can be used by both children and adults. However, it's essential to ensure that the weight capacity of the trampoline is suitable for adult users.
Q.5 Are 15ft trampolines safe?
When used properly and with appropriate safety measures, 15ft trampolines can be safe. Look for trampolines with safety enclosures, thick padding, and sturdy frames.
Additionally, following safety guidelines such as limiting the number of users, avoiding risky maneuvers, and supervising children can further enhance safety.
Q.6 How long does it take to assemble a 15ft trampoline?
Assembly times can vary depending on the complexity of the trampoline design and the individual's experience with assembling such equipment. On average, it may take 2 to 4 hours to assemble a 15ft trampoline. Following the manufacturer's instructions and having a helper can expedite the process.
Q.7 Can a 15ft trampoline be used indoors?
Most 15ft trampolines are designed for outdoor use due to their size and need for adequate space. However, some individuals with large indoor spaces may choose to set up a 15ft trampoline indoors, provided there is enough clearance and safety precautions are taken.
Conclusion
In conclusion, choosing the best 15ft trampoline involves a delicate balance of excitement and consideration. These trampolines, designed with safety and performance in mind, offer a perfect blend of size and usability.
Sturdy frames, quality springs, and safety enclosures characterize the best 15ft trampolines. This article delves into key features, benefits, and essential considerations to guide you in selecting the perfect trampoline for your backyard.
Ensuring durability, safety, and optimal bounce quality, the best 15ft trampolines promise countless hours of family fun. Elevate your outdoor space with joy, excitement, and a carefully chosen trampoline that meets your specific needs.
After going through this detailed guide on the best 15ft trampolines, we hope you have gained a good understanding of what to look for. If you have any questions, please don't hesitate to leave a comment below!