When my child wants to improve their flips and tumbling skills, having a gymnastics trampoline at home becomes essential. It provides a safe and convenient way to practice and enhance their gymnastics abilities. 
With a variety of options available, finding the best home trampoline for gymnastics is crucial. The trampoline should offer features like sturdy construction, ample bounce, and safety measures like enclosure nets and padding. 
It should also provide enough space for routines and tricks. Investing in a home trampoline for gymnastics not only promotes skill development but also keeps my child engaged, active, and motivated. 
Having a gymnastics trampoline at home allows for regular practice sessions and helps my child progress in their gymnastics journey.
Best Home Trampoline for Gymnastics: Enhance your child's flips and tumbling skills with a safe and convenient gymnastics trampoline at home. Sturdy construction, ample bounce, and safety features make it perfect for beginners and experienced gymnasts.
Our Top 3 Picks
Here are our top 3 picks:
1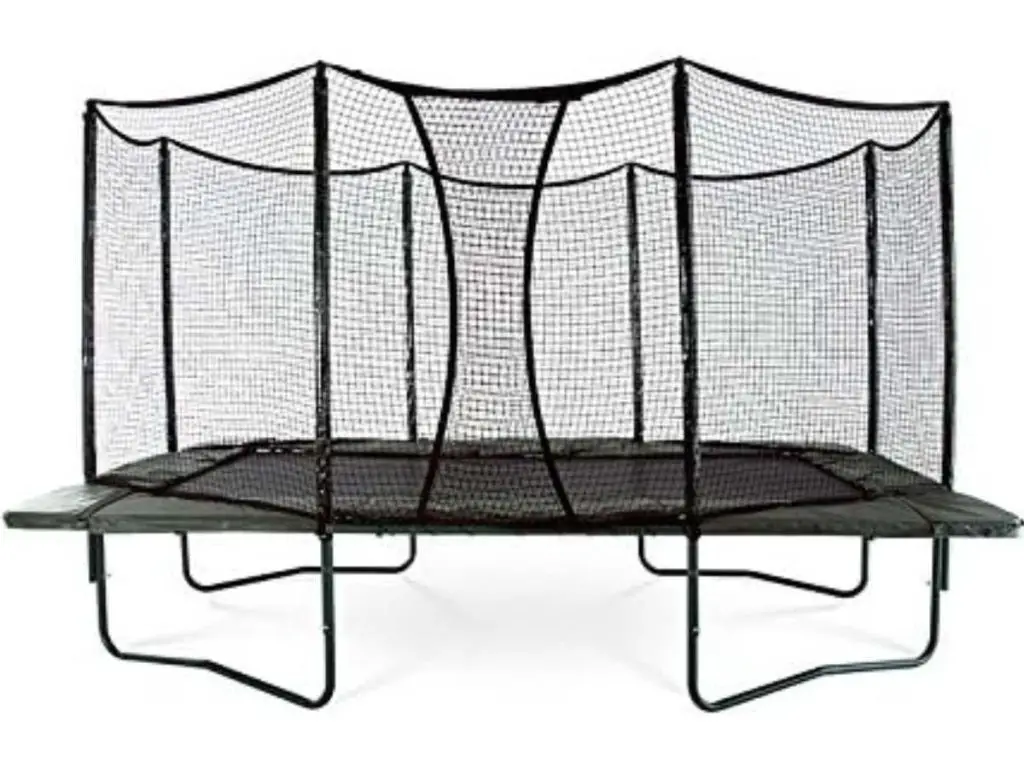 JumpSport AlleyOOP
2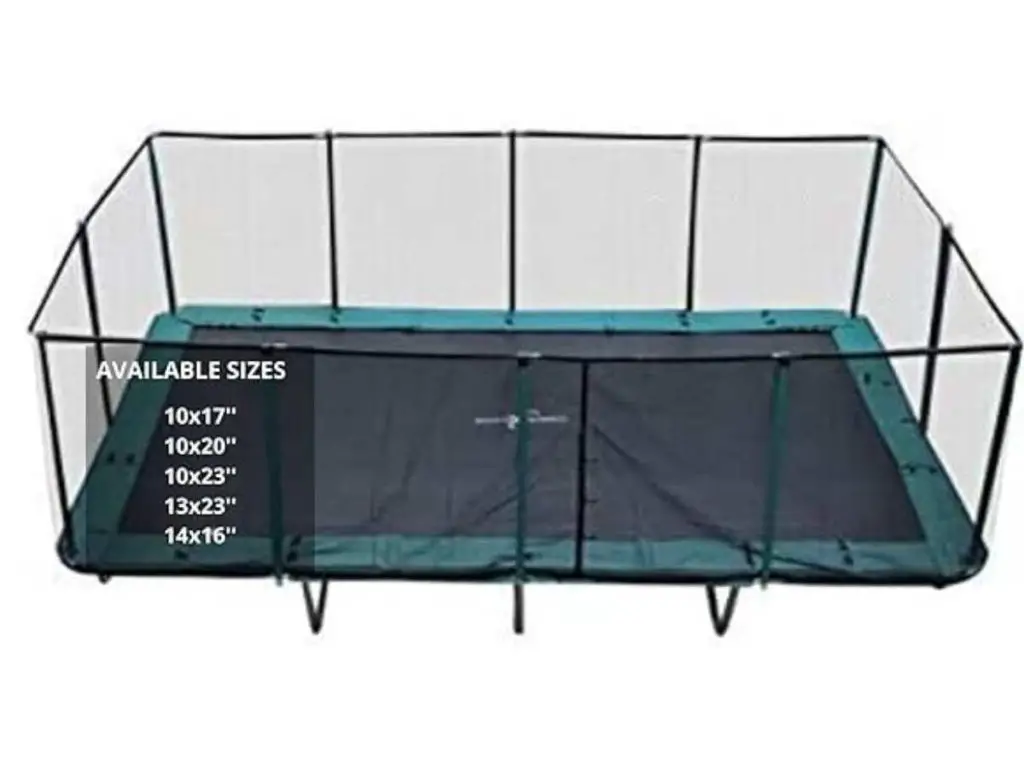 Happy Trampoline
3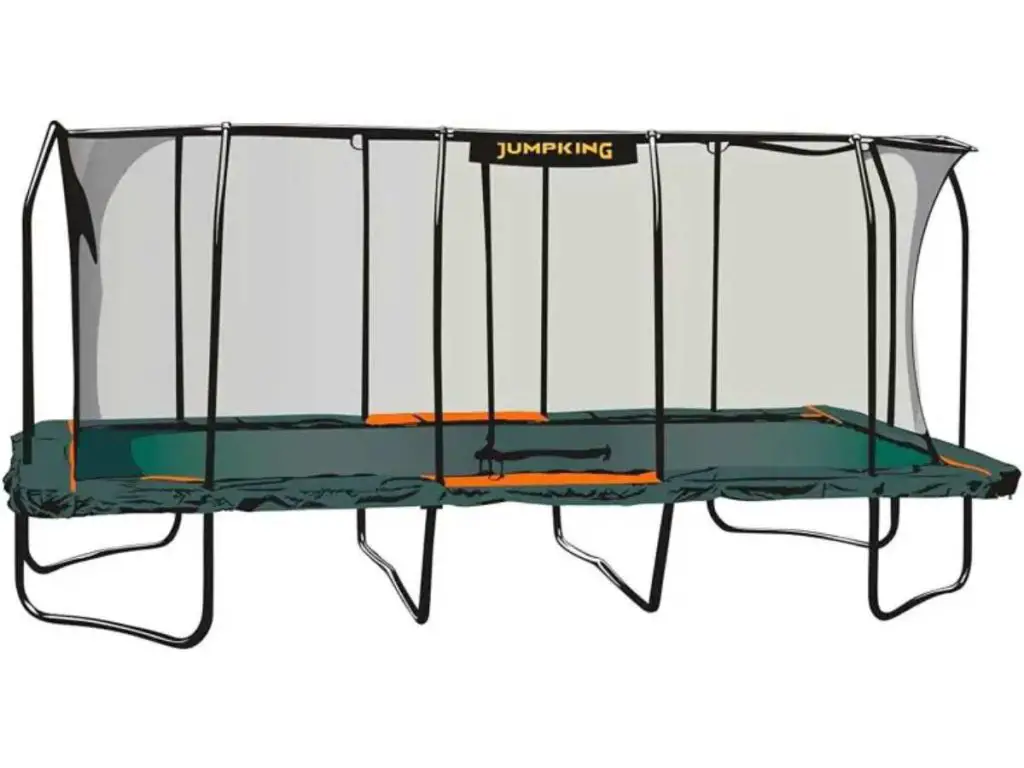 JumpKing Polypropylene
7 Best Home Trampoline for Gymnastics: Reviews 2024
Here I have compiled a list of the top 7 best home trampolines for gymnastics that are highly popular in the market:
Best Trampoline with Enclosure – JumpSport AlleyOOP
Best Gymnastics Trampoline – Happy Trampoline Rectangle
Best Rectangular Trampoline – JumpKing Polypropylene
Best Square Trampoline – Skywalker Trampolines ASTM 
Best Trampolines for Kids – Giantex Trampoline 440 Lbs
Best Gymnastics Rectangular Trampoline – Upper Bounce 500 lbs
Best Gymnastics Rectangular Trampoline – Machrus Moxie Premium Safety
1. Best Trampoline with Enclosure – JumpSport AlleyOOP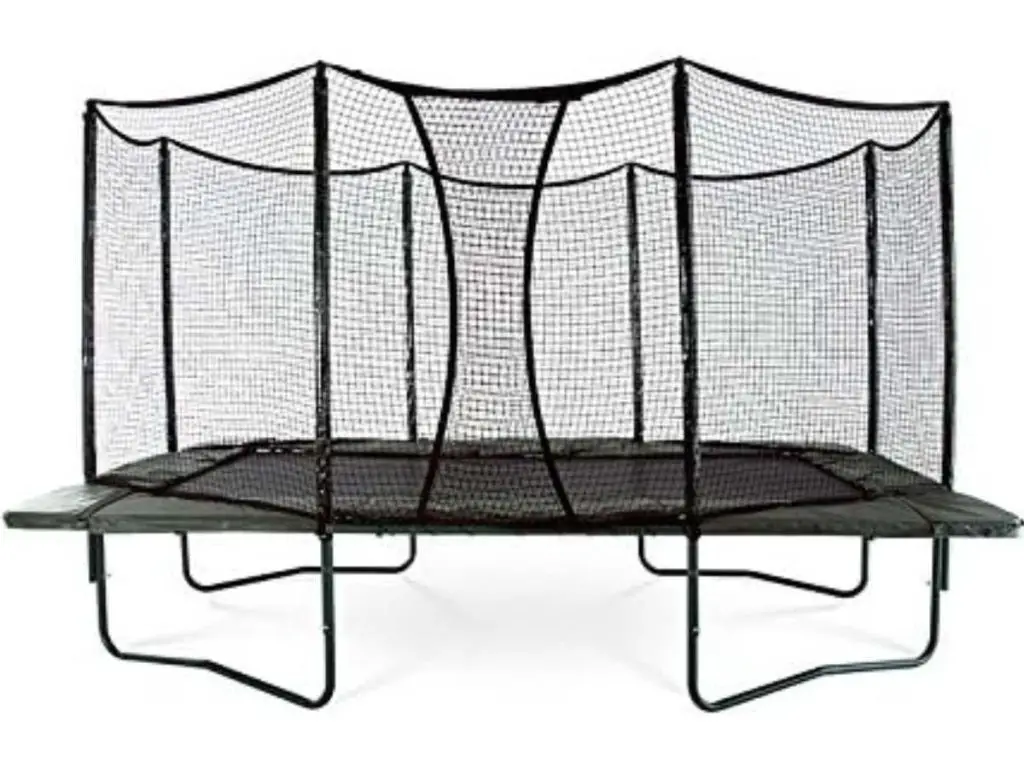 Specifications:
I believe the JumpSport AlleyOOp PowerBounce is the best backyard gymnastic trampoline on the market. With a stellar reputation and a rating of 4.8/5 stars, JumpSport is renowned for producing top-notch trampolines. While it may come with a higher price tag, the AlleyOOp PowerBounce is a high-end, high-quality option that delivers exceptional performance.
Special Safety Elements:
JumpSport stands out as the company that pioneered the safety net, ensuring jumpers' security. Their trampoline features an overlapping doorway to prevent falls, a 295-rated safety net, and impact-flexible enclosure poles for added protection.
Resting Zones:
The inclusion of reinforced, thick padding on the sides creates safe zones for multiple jumpers, allowing them to wait their turn and receive guidance and support while attempting new tricks.
Dual Spring System:
The trampoline features 92 primary black high-performance springs and 72 PowerSprings for exceptional bounce and shock absorption. The adjustable springs accommodate various age, weight, and skill level preferences.
Long-lasting Durability:
The trampoline offers a lifetime warranty on the frame and poles, along with a 10-year warranty on the mat and net. Its safety pad is made of durable gym-quality foam and features a reinforced 21oz PVC covering.
Impressive Weight Capacity:
Supports up to 800lbs with a maximum weight per jumper at 350lbs
2. Best Gymnastics Trampoline – Happy Trampoline Rectangle
Specifications:
I recently came across the Galactic Extreme Trampoline by Happy Trampolines, a family-owned and operated American company. While not as widely recognized as brands like JumpSport or SkyBound, Happy Trampolines has been producing high-end trampolines for over 20 years. Their Galactic Extreme model caught my attention as a high-performance, commercial-grade trampoline that seems worth considering.
Ample Weight Capacity: 
With a maximum weight capacity of up to 550 lbs, this trampoline can accommodate multiple bouncers or allow for one bouncer and a spotter for advanced tricks.
Sturdy "Stabilizer Frame": 
The heavy-duty frame is fully galvanized and rust-resistant, offering a lifetime warranty against warping. It gives me peace of mind knowing it can withstand year-round use.
Trusted Endorsement: 
Olympian Bode Miller has endorsed this trampoline, which adds to its credibility and reassurance in terms of quality and performance.
Enhanced Safety Measures: 
The enclosure features a patented "Stay Put" design, while the steel frame is covered with padded cushions for effective shock absorption during landings.
All-Inclusive Package: 
The Galactic Extreme comes with an extra-wide spring cover pad, a ladder for easy access, and all the necessary components for hassle-free setup.
3. Best Rectangular Trampoline – JumpKing Polypropylene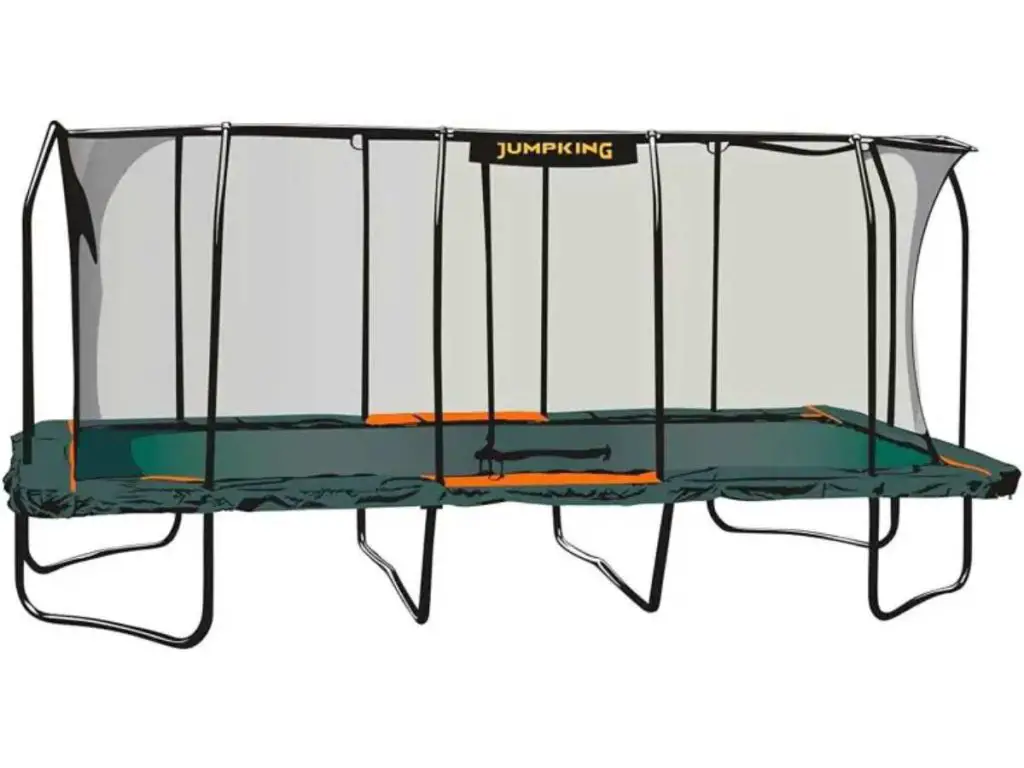 Specifications:
I've been exploring trampolines for my friend who is passionate about gymnastics, the JumpKing trampoline has caught my attention. With its bold claims of being the best gymnastics trampoline and its unique patented "over-under" spring arrangement, this trampoline promises an exceptional bouncing experience. Owners have expressed high levels of satisfaction, indicating that there may be something special about it.
Impressive Bounce and Design:
Unique V-Shaped Springs: The patented "over-under" spring arrangement creates an amazing bounce, enhancing the trampoline's performance and fun factor.
Enhanced Safety and Comfort:
High Weight Capacity: With a maximum weight capacity of 400 lbs, the JumpKing trampoline can accommodate multiple jumpers and spotters without compromising the mat's integrity.
Spacious Enclosure Illusion: The bent-pole design of the exterior safety net creates an illusion of more room inside the enclosure, providing a comfortable and enjoyable jumping experience.
Temperature and Durability:
Cool Green Mat: The green mat of the JumpKing trampoline is designed to stay cooler to the touch compared to standard black mats, ensuring a more comfortable jumping surface.
Sturdy Galvanized Steel Frame: The trampoline's frame is made of super-strong galvanized steel, providing durability and long-lasting performance.
Ease of Assembly and Considerations:
Simple Assembly Process: Reviewers have noted that the JumpKing trampoline is fairly easy to assemble, even for one person. Helpful assembly videos on platforms like YouTube can guide you through the process.
Price Consideration: 
While the JumpKing trampoline offers excellent features, it's important to consider the price point. If you're open to exploring other options, models like the Happy Galactic or AlleyOOP PowerBounce, with exceptional features, could be worth considering at a similar price range.
4. Best Square Trampoline – Skywalker Trampolines ASTM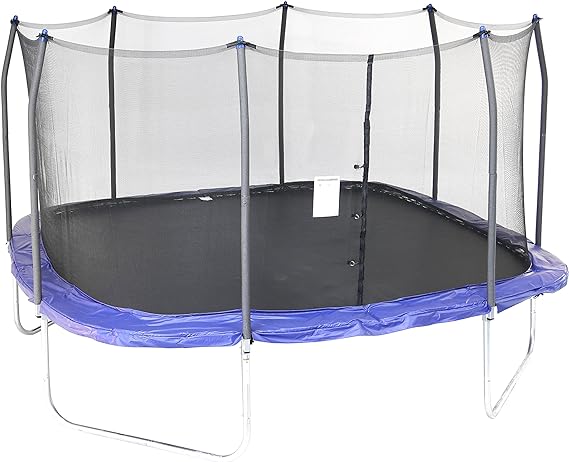 Specifications:
I came across the Skywalker Trampolines Square Trampoline, and it seems to offer some impressive features. With its square shape, durable construction, and safety-focused design, this trampoline has caught my attention. Let's dive into the key aspects that make it a compelling choice.
Safety and Durability:
Skywalker Trampolines prioritizes safety, and their trampolines are designed and tested to meet or exceed the American Society of Testing Materials (ASTM) standards. 
With their patented no-gap enclosure, I can rest assured that there are no dangerous openings or pinch points. This feature, patent #RE45,182, provides added peace of mind when it comes to the safety of my family and children. 
Additionally, the galvanized steel frame ensures durability and resistance to weather and rust. The reinforced T-sockets at each leg and enclosure joint further enhance the stability of the trampoline.
Spacious Square Shape:
One standout feature of the Skywalker Trampolines Square Trampoline is its unique square shape. Compared to other trampoline shapes, the square design offers a 20% larger jumping area. 
This means more room for bouncing and having fun, making it an excellent choice for active jumpers. Moreover, the square frame provides a robust structure and allows for a higher bounce, enhancing the overall trampoline experience.
Maximum User Weight and Testing:
The trampoline has a maximum recommended user weight of 250 lbs, according to ASTM standards. Skywalker Trampolines thoroughly tests its products to ensure they meet or exceed these standards. 
Their trampolines are tested to four times the maximum recommended user weight, providing an extra layer of confidence in their strength and reliability.
5. Best Trampolines for Kids – Giantex Trampoline 440 Lbs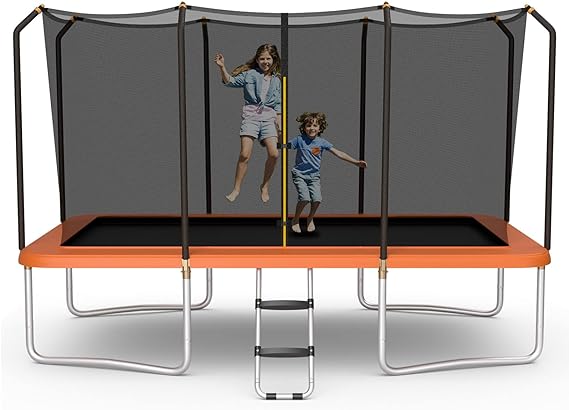 Specifications:
My Friend recently purchased the Giantex Trampoline 440 Lbs. He is very impressive through taking it. He would share his experience with me:
Installation Made Easy: 
The Giantex trampoline set will be conveniently delivered in two boxes, allowing for easy handling. While you may receive them at different times, rest assured that all the necessary accessories, installation instructions, and tools are included to make the assembly process straightforward. 
The poles can be easily installed using lock pins, requiring no additional tools.
ASTM Approved Safety: 
Gaintex trampoline meets the rigorous standards set by ASTM, providing an added level of assurance in terms of quality and safety. The curved poles ensure there is sufficient space between the net and poles, reducing the risk of children getting hurt if they fall. A soft safety pad is also included to seal dangerous gaps and enhance overall safety.
Durable Galvanized Steel Frame: 
The Giantex trampoline features a hot-dip galvanized steel frame with double-side galvanization on both internal and external surfaces. 
This superior galvanized steel construction provides exceptional wear and rust resistance compared to ordinary steel pipes. The trampoline is further equipped with four U-shaped legs to ensure stability during jumping.
Long-lasting and Impressive Bounce: 
With 84 heavy-duty steel springs, the Giantex trampoline offers a tightly connected jumping mat for outstanding rebounds. The breathable and wear-resistant PP jumping mat has undergone rigorous testing for 5000 hours of UV resistance, ensuring its ability to withstand various weather conditions for long-lasting outdoor use.
Backyard Playground: 
The vibrant and inviting design of the Giantex outdoor trampoline instantly captures kids' attention and ignites their love for bouncing. The 8 ft x 14 ft trampoline not only brings endless fun to their childhood but also helps enhance their physical fitness, balance ability, and skeletal development.
6. Best Gymnastics Rectangular Trampoline – Upper Bounce 500 lbs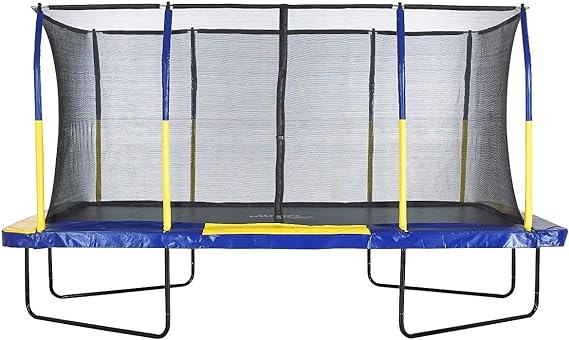 Specifications:
Upper Bounce Gymnastics rectangular trampolines offer a thrilling and safe entertainment experience for gymnasts. In this review, I will focus on the 9×15 ft rectangular model, which stands at a total height of 106 inches.
Durable Steel Frame and Stable Design
The frame of this gymnastics trampoline is constructed from heavy-duty steel with protective coatings, ensuring exceptional durability. 
The welded sockets provide a secure and stable connection between the frame and upper enclosure poles, preventing twisting during acrobatic jumps. The four W-shaped legs contribute to the overall stability of the frame.
Quality Mat and Safety Pad
The jumping mat is made of heavy-duty premium polypropylene, incorporating mesh materials with 8-row stitching for added security and long-lasting performance, resisting wear and tear. 
The safety pad consists of multiple layers, including a 450-gram PVC top and a 310-gram PE bottom with high-density, shock-absorbent 1-inch foam, ensuring maximum safety.
Ultra-Bouncing Experience
With 90 rust-free and heavy-duty galvanized steel springs, this trampoline offers exceptional bouncing capabilities. Each spring measures 7 inches in length, contributing to the maximum bounce. 
The quality springs can support a weight capacity of up to 500 pounds, providing a robust and energetic jumping experience.
Safety Net with Dual Closure System
The enclosure net is constructed from durable Terylene mesh material, ensuring maximum durability and longevity. The dual closure system, consisting of a zipper and latch clips, provides a secure enclosure while jumping. 
The net is attached to the V-rings of the mat, reducing gaps between the net and the jumping surface. Additionally, you can further secure the net using spring loops and ropes for enhanced safety.
Easy Set-Up and Safety Standards
Setting up this trampoline is a breeze and requires no additional hardware. It incorporates all the necessary safety features and meets ASTM standards, ensuring a safe and enjoyable experience for your child.
7. Best Gymnastics Trampoline – Machrus Moxie Premium Safety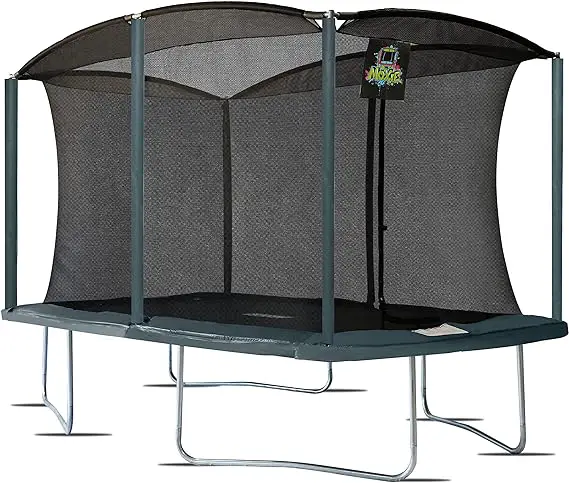 Specifications:
I am thrilled to share my personal experience with the Moxie Girlz rectangular trampoline. The ocean green color adds a touch of vibrancy to my backyard, creating a visually appealing and fun atmosphere.
Extra Space for Diverse Entertainment:
The trampoline's enclosure net is surrounded by curved tubes, which are connected using strengthening connectors. This design ensures the integrity and sturdiness of the entire frame, allowing for bigger flips and providing ample space for practicing gymnastics for both kids and adults.
Safe Outdoor Fun:
Moxie Girlz prioritizes child safety, and it shows in their rectangular trampoline. The soft foam surrounding the poles absorbs the impact of any accidental collisions. 
The no-gap enclosure design prevents feet from getting caught in the springs, and the safety padding offers additional protection. The enclosure net with a zipper allows for easy entrance and ensures a safe jumping experience.
Exceptional Elasticity and Durability:
The sturdy trampoline legs provide excellent support, ensuring an enjoyable and memorable jumping experience. The flexible jumping mat, along with high-tension springs, offers exceptional elasticity, allowing for high rebounds across the entire surface without any dead spots.
Fully Standardized and Easy to Set Up:
The heavy-duty galvanized steel frame meets all ASTM requirements, ensuring top-notch quality and safety. The rust-resistant frame can withstand various weather conditions. The user-friendly instruction manual makes setting up the trampoline a breeze.
After-Sales Support:
Moxie offers exceptional customer support, providing a 1-year warranty on jumping mats, frames, and springs, as well as a 90-day warranty on the enclosure net and pole caps. In case of any defects, immediate replacements are offered at no additional cost.
Best Home Trampoline for Gymnastics: Buying Guide
If you're planning to buy a quality trampoline for gym purposes, it's essential to understand the key features since there are various types available in the market. 
Gymnastics trampolines should have a sturdy frame and springs, along with a high-quality jumping pad and premium poles with enclosures.
Additionally, they should be designed to withstand different weather conditions and have a high weight capacity. We will discuss these important factors in detail below to help you make an informed decision when choosing the right trampoline for your needs.
Gymnastics Trampoline Shapes:
Shapes of Gymnastics Trampolines: Rectangular trampolines are popular among professionals for their high bounce, while round trampolines are preferred by kids and beginners. 
Other shapes like oval, square, and octagonal are also available. Rectangular trampolines offer consistent bounce, while round trampolines focus the bounce toward the center. 
Rectangular trampolines require caution due to their higher bounce, while round trampolines prioritize safety. The choice between shapes depends on the available space in your backyard.
Size and Weight Capacity:
Trampolines come in various sizes to accommodate different users. Smaller and lightweight trampolines are suitable for kids, offering low bounce and easy setups. 
Gymnasts require larger trampolines with higher bounce, ranging from 7ft to larger sizes like 15ft, 16ft, 17ft, or 18ft, allowing multiple gymnasts to bounce simultaneously.
It's crucial to not exceed the trampoline's maximum weight capacity. Additionally, there are specialized indoor exercise trampolines like the Urban Rebounder, which provide a unique way to burn calories.
However, it's important to be aware of potential negative side effects and follow safety rules to prevent injuries.
Sturdy Frame and Spring:
The frame of a gymnast trampoline needs to be made of high-quality materials that can support heavy weights and resist twisting. Galvanized steel frames are ideal for their durability and weather resistance.
The springs, also made of galvanized steel, should be larger and thicker to provide better bouncing and ensure safe landings. Longer springs are preferred over the standard size (7 inches) for a more enjoyable bouncing experience.
Investing in quality springless trampolines is recommended for enhanced safety and a great bouncing experience. The number of springs is also important, with trampolines having over 100 springs offering higher bounce levels.
Quality of Jumping Mats in Gymnastics:
Jumping Mats in gymnastics trampolines are typically made of durable anti-UV polypropylene materials. These high-quality mats can be replaced if needed and some are even waterproof and weather-resistant. 
Some trampolines also come with a rain cover to protect the mat. It's important to properly maintain and repair your trampoline using the appropriate kits when necessary.
FAQs:
Q:1 What size trampolines are used in gymnastics?
The size 8×12 foot provides great bounce for children up to around 13 years old, making it ideal for young gymnasts to practice their routines at home. A 12-foot rectangular trampoline typically offers a better bounce than a 12-foot round trampoline.
Q:2 What are trampolines used for gymnastics called?
Trampoline athletes engage in competition across four distinct categories: Individual Trampoline, Synchronized Trampoline, Double Mini-Trampoline, and Tumbling.
Q:3 Is a 14-foot trampoline suitable in size?
A 14-foot trampoline offers a surface area ranging from 122 to 130 square feet, making it suitable for all age groups, including adults. The weight capacity of a typical 14-foot trampoline ranges between 350 and 475 lbs.
Q:4 Which company produces the best trampolines?
Experience ultimate fun with the top trampolines: SereneLife for overall performance, Skywalker for wide jumping space, Springfree for no-spring technology, Zupapa for high weight capacity, BestMassage for highest jumps, and CalmMax for exceptional safety.
Q:5 What is the cost of an Olympic trampoline?
The Olympic trampoline costs around $4000-$5000, with mat replacements costing $1000-$1500. Irreparable mats add to the expense, but the bounce heights are fantastic.
Conclusion:
In conclusion, the Happy Trampoline Rectangle and Skywalker Trampolines ASTM are two top contenders for the best home trampoline for gymnastics. Both trampolines offer a wide range of features and benefits that cater to gymnasts of all ages and skill levels.
The Happy Trampoline Rectangle stands out for its heavy-duty construction, providing a sturdy and stable frame that ensures safety during gymnastic routines. 
With its extra-large jumping surface and high weight capacity, it offers ample space for diverse entertainment and practice. The reinforced enclosure system and safety features prioritize user well-being, creating a secure and protected jumping experience.
Similarly, the Skywalker Trampolines ASTM excels in safety and durability. Meeting ASTM standards guarantees quality and reliability. The sturdy frame and safety enclosure system provide a secure environment for confident gymnastic performances. 
Features like the no-gap enclosure design and safety padding demonstrate the brand's commitment to safety.
Both trampolines offer exceptional elasticity, durability, and easy setup. They also provide excellent after-sales support for a seamless ownership experience.
Ultimately, the choice between the Happy Trampoline Rectangle and Skywalker Trampolines ASTM will depend on personal preferences, budget, and specific requirements. 
Whichever trampoline is chosen, ensures the joy and excitement of gymnastics in the comfort of your home while prioritizing safety and quality.
After reading this comprehensive article, we hope you will be well aware of the best home trampoline for gymnastics. If you have any questions, feel free to comment below!