I understand the importance of getting my kids away from screens. That's why I love the idea of the Best In-Ground Trampoline. It provides outdoor fun without obstructing our garden view or needing safety nets. The design seamlessly blends with our backyard, offering exercise and entertainment. 
While some DIY excavation is required, it's a worthwhile investment, especially for limited spaces. Without enclosures, it's a subtle and valuable addition to our outdoor haven. If you're interested, I have a helpful guide to choosing the perfect in-ground trampoline for your family.
Best In-Ground Trampoline: To find the perfect in-ground trampoline, consider size, durability, safety features, and installation requirements. Choose one that fits your space and offers long-lasting enjoyment for your family.
Our Top 3 Picks
Here are our top 3 picks:
1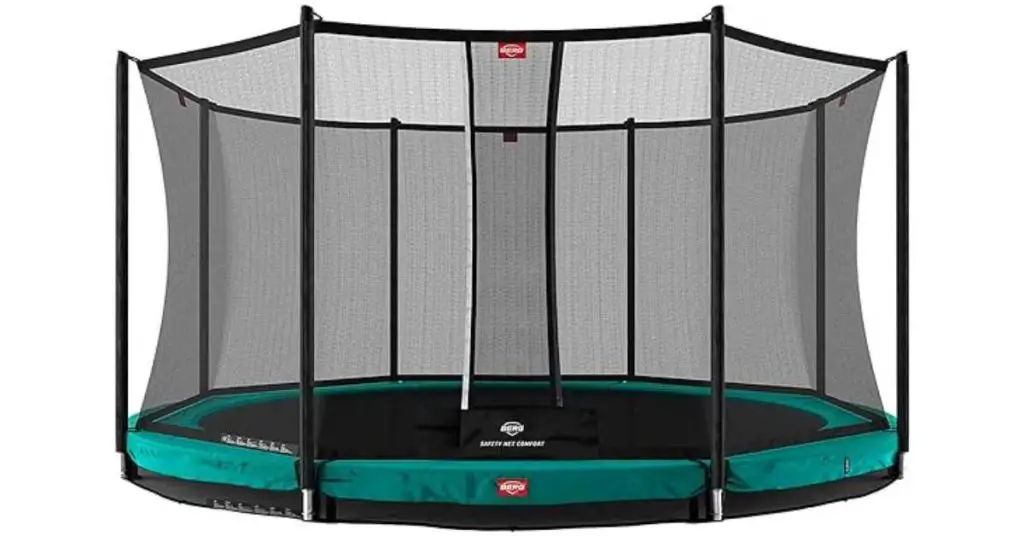 BERG Trampoline Grand Champion
2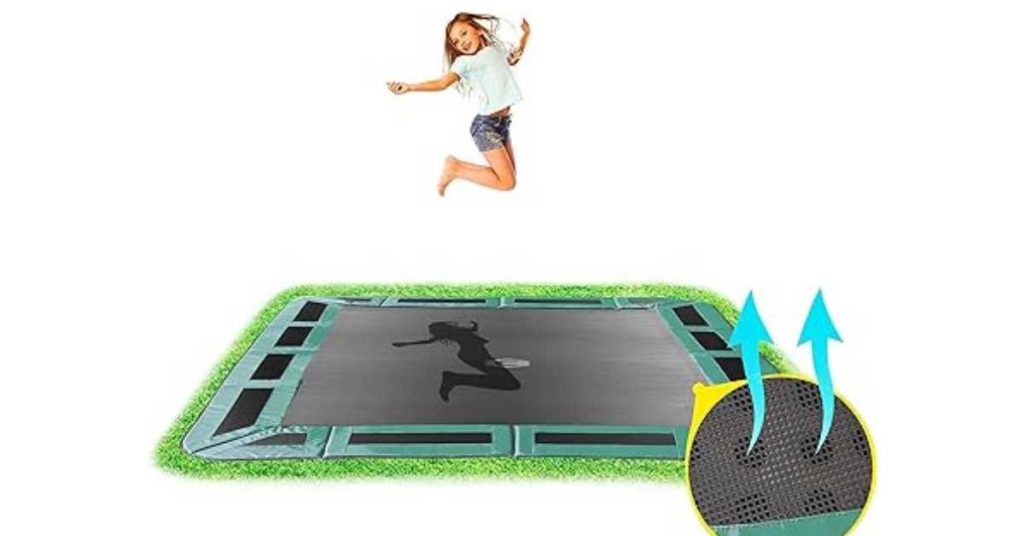 Capital Play Inground Rectangle
3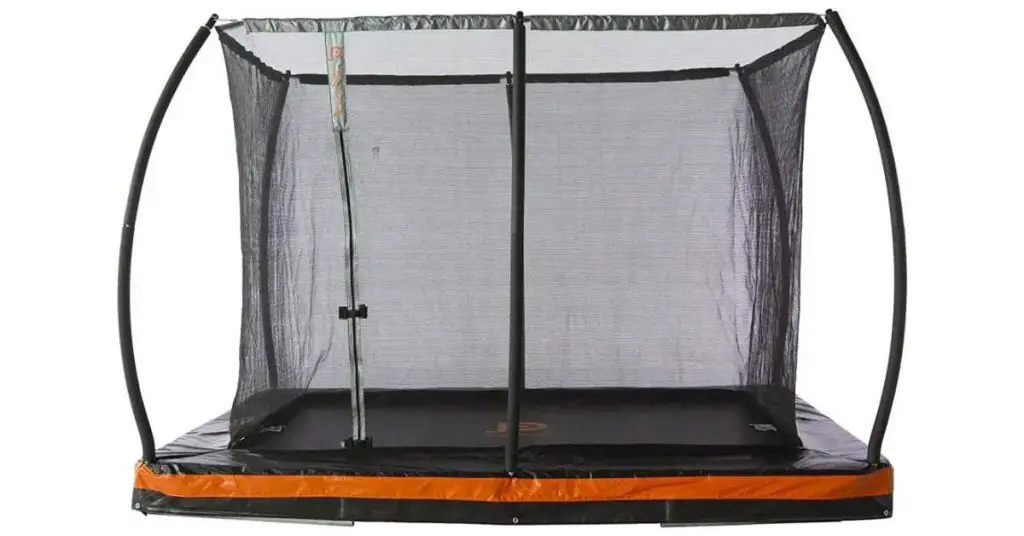 JumpPower European Design
5 Best In-Ground Trampoline: Reviews 2024
Here, I have compiled a list of the top 5 best in-ground trampolines, that are highly visible:
Best In-Ground Trampoline – BERG Trampoline Grand Champion
Best Standard Trampoline – In-Ground Trampolines
Best Oval Trampoline – BERG Trampoline for Kids
Heavy Duty Trampoline – Capital Play Inground Rectangle
Best In-ground Rectangular Trampoline – JumpPower European Design
1. Best In-Ground Trampoline – BERG Trampoline Grand Champion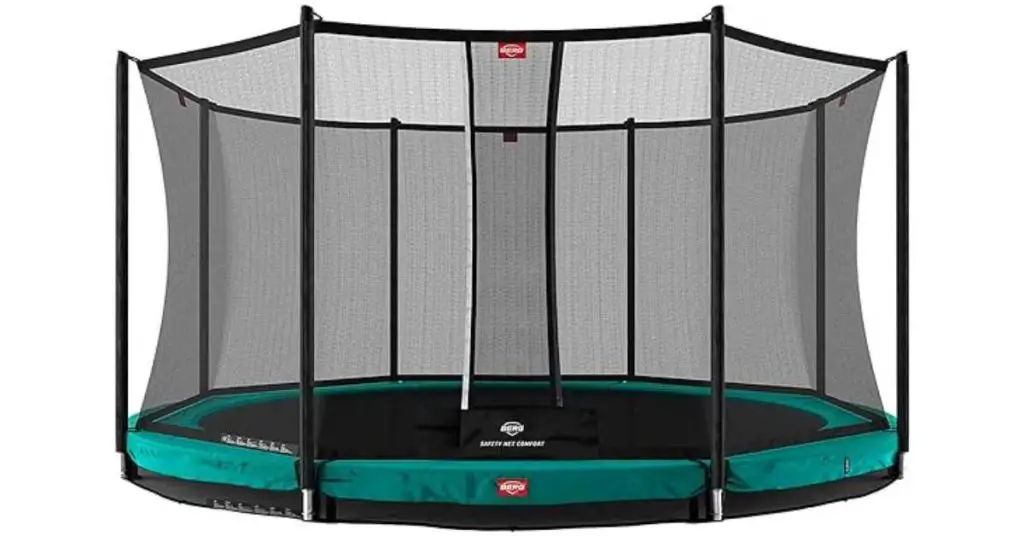 Specifications:
30 years of experience in outdoor playtime, I can assure you that BERG trampolines are exceptionally well-developed. The BERG Champion range, specifically designed for long and safe bouncing, stands out for its remarkable features.
TwinSpring Gold springs and AirFlow jumping technique:
The BERG Champion trampolines utilize TwinSpring Gold springs mounted in a 'V' shape, creating an ideal setup for efficient bouncing. Unlike other designs that push jumpers to the middle, the 'V' shape mount provides a larger and more efficient jumping space. 
Additionally, the AirFlow technique incorporated into the jumping mat allows for increased airflow, resulting in reduced air resistance and bigger bounces.
Sturdy and durable frame:
The trampolines in the BERG Champion range are built with a strong and robust frame that ensures a long lifespan. With a diameter of 42mm and a wall thickness of 2mm, combined with a solid zinc layer and powder coating, the frame offers optimal stability and durability. 
The presence of protective padding adds an extra layer of safety, making it a reliable and secure choice.
2. Best Standard Trampoline – In-Ground Trampolines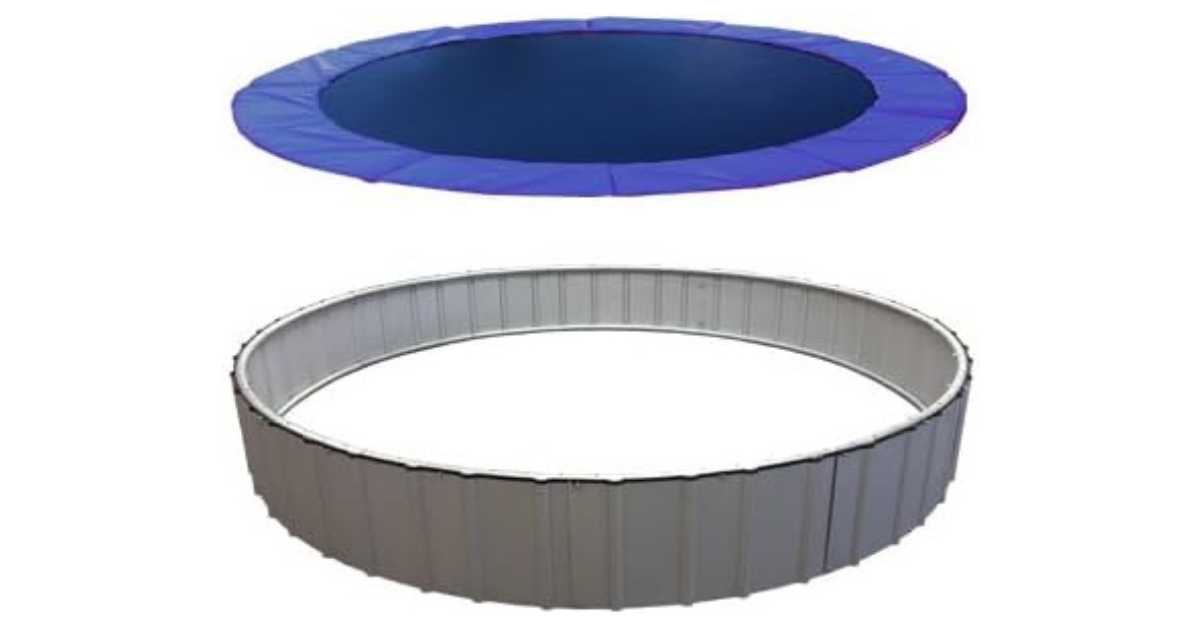 Specifications:
I have researched the In-Ground Trampolines Standard for my friend, I can confidently say that it offers a discreet and stylish option. The trampoline lies flush with the ground and can even be hidden below the fence by removing the safety nets.
Balanced Design and Excellent Airflow:
The 15-foot Design: Strikes the perfect balance between size and not overpowering the backyard, offering ample space for bouncing while maintaining a visually appealing presence.
Modern Airflow Design: Ensures excellent airflow, preventing air pockets and allowing for smoother and more enjoyable bouncing experiences.
Impressive Bouncing Performance:
Pre-Galvanized and Tapered Springs: Delivers impressive and deep bounces, thanks to the high-quality springs that are pre-galvanized and tapered for optimal performance.
Flexible Bungee System: Reduces stress on the seams and provides flexibility, enhancing the longevity and durability of the trampoline.
Durable and Resistant Construction:
Galvanized Steel Frame: The trampoline features a robust galvanized steel frame, offering exceptional durability and protection against rust and corrosion.
Reinforced Steel Tubing and Wall Panels: The frame is reinforced with 14 gauge steel tubing and supported by 18 gauge steel wall panels, ensuring strength and longevity.
Safe and High Weight Capacity:
Increased Number of Springs: With a higher spring count, the trampoline can support a weight limit of 450 pounds, providing a safe bouncing experience even during large gatherings.
Enhanced Performance with Airflow Technology:
Airflow Jump Surface: The jumping surface of the trampoline utilizes airflow technology, reducing air resistance and enhancing performance for higher jumps and smoother bounces.
3. Best Oval Trampoline – BERG Trampoline for Kids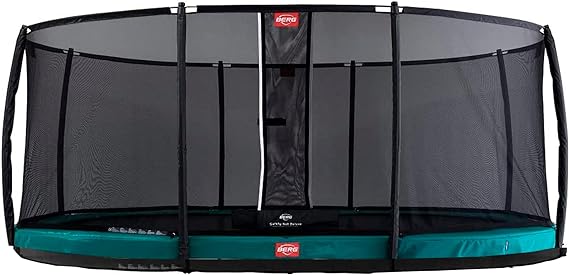 Specifications:
With its stunning gold color and top-notch quality, the BERG Champion InGround 17 ft trampoline with enclosure is a perfect choice for family fun and excitement. A proud owner of this trampoline, you can create lasting memories with your loved ones, thanks to its variety of shapes and sizes that cater to any space.
Safety and Quality: 
BERG understands the importance of safety and has designed the InGround trampoline with the highest quality materials. The long-lasting TwinSpring Gold Springs, Airflow Jump Mat, and included safety net enclosure ensure a safe bouncing experience for everyone.
Excellent Safety Net: 
The trampoline comes with an excellent safety net, including deluxe and deluxe XL options, providing added protection and preventing accidents while allowing for high jumps with peace of mind.
Airflow Jumping Mat: 
The Airflow Jumping Mat sets this trampoline apart, allowing for 50% more air permeation compared to standard mats. This increased airflow reduces the resistance while jumping, enabling higher jumps and an exhilarating bouncing experience.
Long Warranty: 
BERG offers a 10-year limited warranty out of the box, demonstrating their confidence in the trampoline's quality. By registering the oval trampoline with enclosure on the BERG website, you can extend the warranty for an additional 3 years, ensuring long-lasting enjoyment.
4. Heavy Duty Trampoline – Capital Play Inground Rectangle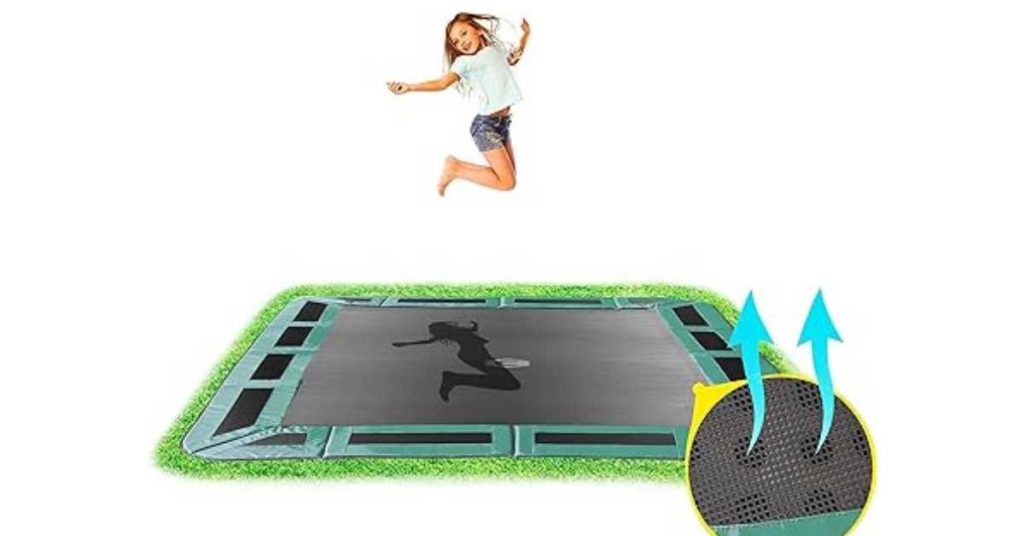 Specifications:
Our inground trampoline kit provides a range of fun and engaging activities for the whole family. The trampolines are flush with the ground, eliminating the need for ladders and zippers, making them more durable and easier to assemble. We also offer detailed instructions and support to ensure a smooth installation process.
Safety & Quality:
The Capital inground trampoline kit prioritizes safety and fun for your kids. The trampoline mat and safety padding are flush with the ground, eliminating the risk of falling off a ladder or forgetting to zip it up. 
With high-quality components, including thicker safety padding, a stronger commercial-grade jump mat, and an extra-strong rigid frame, this trampoline ensures a safe bouncing experience.
Suitable for Outdoor Activities:
Our in-ground trampolines are perfect for outdoor spaces, providing endless entertainment for kids and adults. With detailed instructions available for download and reliable phone support, the assembly process becomes easy and enjoyable for the whole family.
Compact Double Strength Frame:
We take pride in our double frame system, featuring a seriously rigid galvanized frame made from 2mm thick, double-dip steel. This super-strong frame is designed to last for years, backed by an unbeatable 10-year frame warranty for our rectangle trampolines.
Various Colors and Sizes:
We offer our in-ground trampolines in three different sizes, each with unique features and benefits, allowing you to choose the perfect fit for your backyard. Additionally, you can choose between two colors, green and gray, to match your style and preference.
5. Best In-Ground Rectangular Trampoline – JumpPower European Design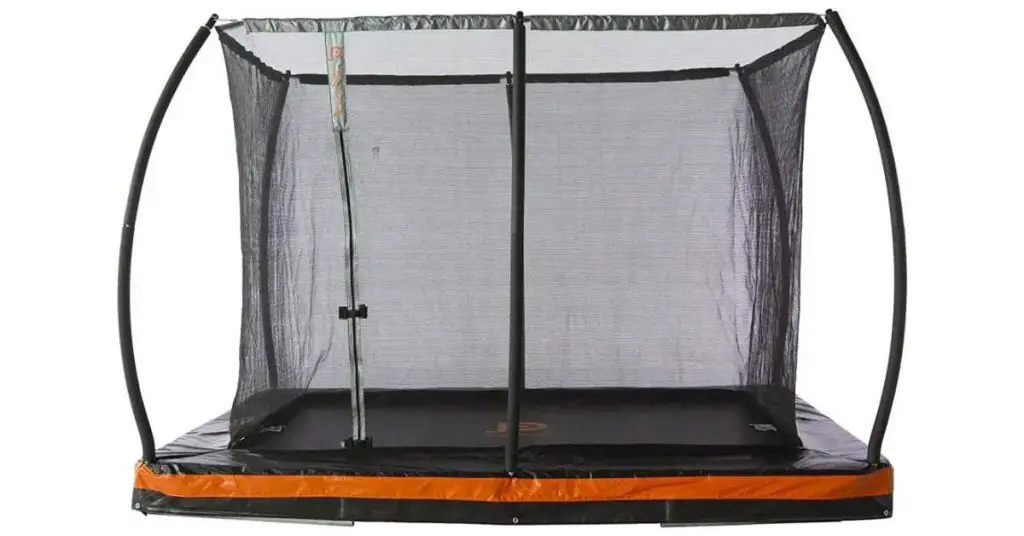 Specifications:
Experience the joy of bouncing with the JumpPower trampoline. A leading brand in the industry, JumpPower offers a range of trampolines designed to provide endless fun and fitness activities for the whole family. Let's explore the key features and benefits of the JumpPower trampoline.
Compact Size for Versatile Use:
The JumpPower trampoline boasts a frame size of 10 feet, making it ideal for various outdoor spaces. Whether you have a small backyard or limited space, this trampoline will fit perfectly and provide ample bouncing area for everyone to enjoy.
Safe and Comfortable Design:
Safety is a top priority with the JumpPower trampoline. The foam pad type ensures a soft and comfortable landing surface, reducing the risk of injuries while bouncing. 
The 64 springs distributed evenly across the trampoline provide a balanced and controlled bounce for enhanced safety.
Durable Construction:
Built to withstand rigorous use, the JumpPower trampoline is made from high-quality materials. The frame is constructed from durable alloy steel, ensuring long-lasting performance and stability. The polypropylene jumping mat adds to its durability, allowing for countless hours of bouncing fun.
Generous Weight Capacity:
With a maximum weight recommendation of 330 pounds, the JumpPower trampoline can accommodate multiple users of varying sizes.
Whether it's a solo jumping session or a group activity, this trampoline can support the weight of both children and adults, making it suitable for the whole family.
What to Look for When Buying an In-Ground Trampoline?
When buying an in-ground trampoline, there are several key factors to consider:
Choosing the Shape:
When choosing the shape of an in-ground trampoline, you have options like round, oval, or rectangular. Round trampolines are popular because they have the best bounce in the middle, so everyone tends to gather there. 
val trampolines are more similar to rectangular ones and provide a more even and efficient bouncing surface. While curved designs are more common, the rectangular shape is easier to consider. 
Additionally, if you have a budding gymnast who wants to learn specific routines, a rectangular trampoline is ideal for practicing those moves.
Choosing the Size:
Considering the size of your backyard is crucial when choosing an in-ground trampoline. The minimum size to consider is 10 feet, but some models can go up to 17 feet. It's important to leave a few feet of space around the sides for safety. 
Additionally, the hole dug for the trampoline should have several inches of space below for bouncing, typically around 30 to 36 inches or more for drainage. The sides of the hole will have reduced space, at least around 20 inches. 
Keep in mind that many trampolines include a sitting area on the edge for jumpers to rest. Be cautious with sizing your backyard, as once the hole is dug, there's no turning back.
Considerations for Safety Nets:
Using a safety net is highly recommended, especially when hosting large parties, to prevent people from bouncing off the trampoline and potentially getting injured. It's not ideal to have an ambulance show up at your party, which can create an unfavorable impression among your neighbors. 
Fortunately, many in-ground trampolines come with removable safety nets. This is advantageous as it allows for discretion since the net can be extended to a height that is not easily visible above the fence line.
Installing an In-Ground Trampoline:
For optimal safety, you can add a net to your in-ground trampoline, regardless of its size. The enclosure consists of netting and poles, preventing children from falling off the trampoline while jumping. 
This provides an extra layer of safety for your outdoor trampoline. If you're curious about burying a ground-level trampoline or if you have questions about burying a regular trampoline, we can guide you through the process.
Considering Bouncing and Performance:
When choosing an in-ground trampoline, it's important to consider the design aspects that contribute to its bounce and performance. These trampolines are built for durability and provide high bounces for an enjoyable experience. 
The length of the springs plays a role in determining the potential bounce, with longer springs typically resulting in higher jumps. Most trampolines have around 80 to 90 springs that should be at least 7 inches long for a good bounce. 
To ensure longevity, the frame and springs are often pre-galvanized to prevent corrosion, allowing the trampoline to withstand bad weather conditions. The pre-tensioned springs are designed to withstand repeated use without needing frequent replacement. 
Bouncing on a trampoline can be addictive, so careful consideration is given to the design to ensure lasting performance and minimal maintenance requirements.
Considerations for Springs and Weight Limit:
When considering the weight limit of an in-ground trampoline, it is important to look at the number of springs it has. Typically, more springs indicate a higher weight limit. 
This is because a greater number of springs allows for more even distribution of weight across the trampoline surface. With an in-ground design placed in an underground trench, stability is generally improved compared to above-ground trampolines. 
Additionally, retaining walls provide extra protection, even for vigorous jumpers. In-ground trampolines tend to have a higher weight capacity, which is especially important when multiple people are jumping simultaneously.
Construction and Material:
In-ground trampolines are designed to be durable and safe, so the construction and materials used play a crucial role. High-quality materials are utilized to withstand the addictive bouncing and ensure long-lasting durability. 
The frame is typically made of stainless steel with a higher gauge to provide strength and stability. The springs are pre-galvanized to protect them from water damage and rust caused by rain or snow. 
The jumping surface is also carefully designed to be waterproof, preventing water absorption. UV protection is incorporated to prevent color fading due to prolonged exposure to sunlight during summers in the backyard.
These measures are taken to maintain the trampoline's structural integrity and appearance for years to come.
Considerations for DIY Installation:
Before attempting a DIY installation of an in-ground trampoline, it's important to assess the soil type and climate in your area. If you have clay soil and a damp climate, drainage may not be ideal. However, if the soil is relatively loose, you can proceed with the DIY installation. 
Begin by digging a hole slightly larger than the trampoline's diameter. The hole should be deepest in the center and deep enough to accommodate retaining walls on both sides. To prevent water pooling, set the trampoline frame slightly higher than the backyard's grade. 
Alternatively, you can dig a larger hole and partially fill it with gravel to promote drainage. It's important to ensure that only water falling on the jump mat accumulates in the middle, unless there is significant flooding. 
For added safety, it is recommended to have a soft grassy area surrounding the trampoline, rather than concrete or other hard surfaces. Installing an in-ground trampoline is a significant undertaking, so it may be helpful to seek advice from a landscaping company before starting the project.
Budget Considerations:
When planning to purchase an in-ground trampoline, it's essential to take budget considerations. In-ground trampolines typically come with a higher price tag than their above-ground counterparts due to the additional installation requirements.
It's important to set a budget range that aligns with your financial capabilities.
Factors that can affect the cost of an in-ground trampoline include the size, quality of materials, and additional features such as safety nets or enclosures. It's advisable to research different brands and models to compare prices and features that suit your needs.
While it may be tempting to opt for a lower-priced trampoline, it's crucial to prioritize quality and safety. Investing in a reputable brand and sturdy construction can ensure a longer lifespan and better overall experience. 
Keep in mind that maintenance and potential future repairs or replacements should also be considered when budgeting for your in-ground trampoline.
Lastly, consider any additional costs such as excavation or professional installation services if you are not confident in your DIY skills. Assessing your budget realistically and weighing it against the desired features and quality will help you make an informed decision when purchasing an in-ground trampoline.
Are In-Ground Trampolines Better?
Absolutely! The bounce quality and airflow of in-ground trampolines are exceptional. There's hardly anything you can't do on an in-ground trampoline that can't be matched by above-ground trampolines in terms of performance. 
The design and placement of in-ground trampolines provide an incredible bounce experience and allow for optimal airflow, making your jumping and tricks feel even more amazing.
Are In-Ground Trampolines Safer?
In-ground trampolines are often considered safer than above-ground trampolines for several reasons. First, the design of in-ground trampolines reduces the risk of falling from a significant height since they are placed at ground level. This minimizes the risk of injuries associated with falling off the trampoline.
Additionally, the absence of a high frame or enclosure in in-ground trampolines reduces the risk of collisions with the structure. It eliminates the need for climbing up and down a ladder or safety net, further reducing the chances of accidents.
Moreover, in-ground trampolines are less likely to be affected by strong winds or storms due to their lowered profile. The installation process involves securing the trampoline firmly in the ground, providing additional stability and preventing tipping over during adverse weather conditions.
However, it's important to note that no trampoline is completely risk-free, and proper safety precautions, such as adult supervision and following usage guidelines, should always be observed.
Are In-Ground Trampolines Dangerous?
Trampolines can be risky, but the risk of getting hurt increases the higher you are from the ground. With in-ground trampolines, you can still jump and bounce, but if you accidentally fall off, you won't have to fall from a great height. 
This means there's less distance to fall and less chance of getting seriously injured. However, it's important to remember that all trampolines come with some level of risk, so it's crucial to be cautious and follow safety guidelines.
FAQs:
Q:1 Which in-ground trampoline is considered the best?
the best fitness trampolines are Bellicon for overall quality, Boogie Bounce for value, Bounce for exercise, Fit Bounce Pro II for rebounding, and Opti for those on a budget.
Q:2 Is it recommended to install a trampoline in the ground?
Above-ground trampolines are specifically designed to be exposed to fresh air and sunlight. However, when you install a trampoline in the ground, it remains in constant contact with damp soil and air. 
Over time, this can lead to rusting of the frame and the springs may require frequent inspection and replacement to ensure safety and effectiveness.
Q:3 Do in-ground trampolines require drainage?
If your in-ground trampoline pit lacks proper drainage, water can lead to rust and other issues. It's crucial to consider drainage during the design of the retaining wall to prevent these problems from occurring. Ensuring proper drainage helps maintain the trampoline's longevity and performance.
Q:4 What is the ideal depth for a ground-level trampoline?
Typically, for an in-ground trampoline, it is recommended to dig a hole that is around three feet deep at the center, although smaller trampolines may not require the same depth. 
The hole should have a bowl-like shape, with the center being the deepest point and gradually becoming shallower towards the edges. This design ensures a proper fit for the trampoline and creates a safe and even surface for jumping.
Q:5 Which company produces top-quality trampolines?
Experience thrilling and safe bouncing with the best trampolines. Our top picks include SereneLife for overall performance, Skywalker for wide jumping space, Springfree for no-spring technology, Zupapa for high weight capacity, BestMassage for highest jumps, and CalmMax for safety.
Conclusion:
In conclusion, in-ground trampolines offer a compelling solution for families seeking outdoor fun and exercise while minimizing safety concerns. They seamlessly blend into the backyard, providing an unobstructed view and a space-saving option.
When considering an in-ground trampoline, factors such as shape, size, safety features, and installation requirements are crucial.
These trampolines are not only known for their exceptional bounce quality and airflow but are also considered safer due to their ground-level placement and reduced risk of falls.
While they are not without risk, adhering to safety guidelines and proper usage can help ensure an enjoyable and safer trampolining experience for both children and adults.
We hope you will be well aware of the best in-ground trampoline, after reading this comprehensive article. If you have any questions, feel free to comment below!