Trampolining is my go-to activity for having a blast while staying fit and healthy. Whether I'm an adult looking to stay in shape or a kid bursting with energy, jumping, twisting, and turning on the best springless trampoline is pure exhilaration.
It's not just fun; it's a fantastic exercise that boosts cardiovascular endurance, enhances coordination, and builds strength.
The best part is that it's a non-weight-bearing workout, meaning it reduces up to 80% of the stress on my joints. So, I can bounce to my heart's content, knowing that I'm engaging in a low-impact activity that keeps me fit and helps me burn off excess energy.
Best springless trampoline: Elevate your fitness journey with trampolining, a phenomenal exercise for enhancing cardiovascular endurance, coordination, and strength. Experience the joy of bouncing while achieving your fitness goals.
Our Top 3 Picks
Here are our top 3 picks:
1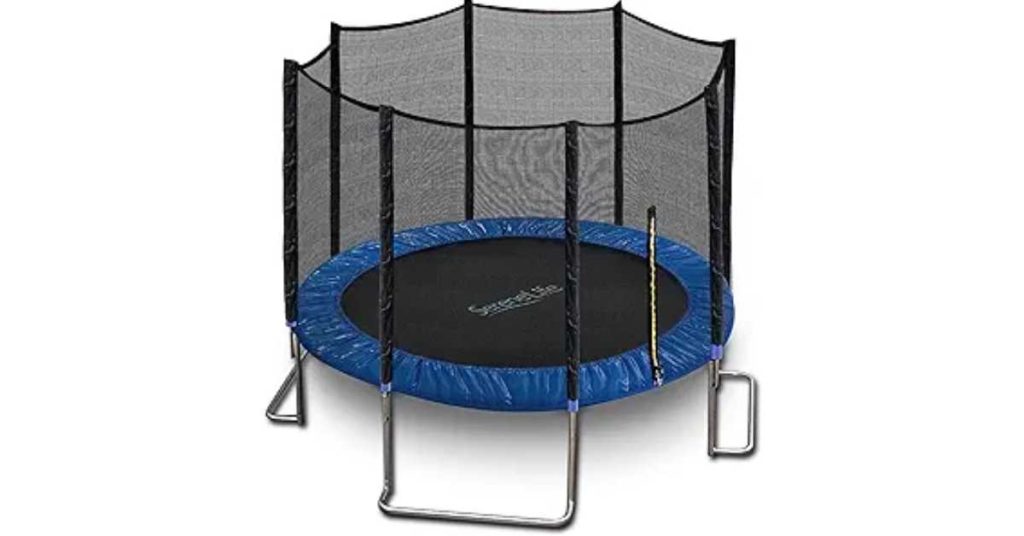 SereneLife ASTM
2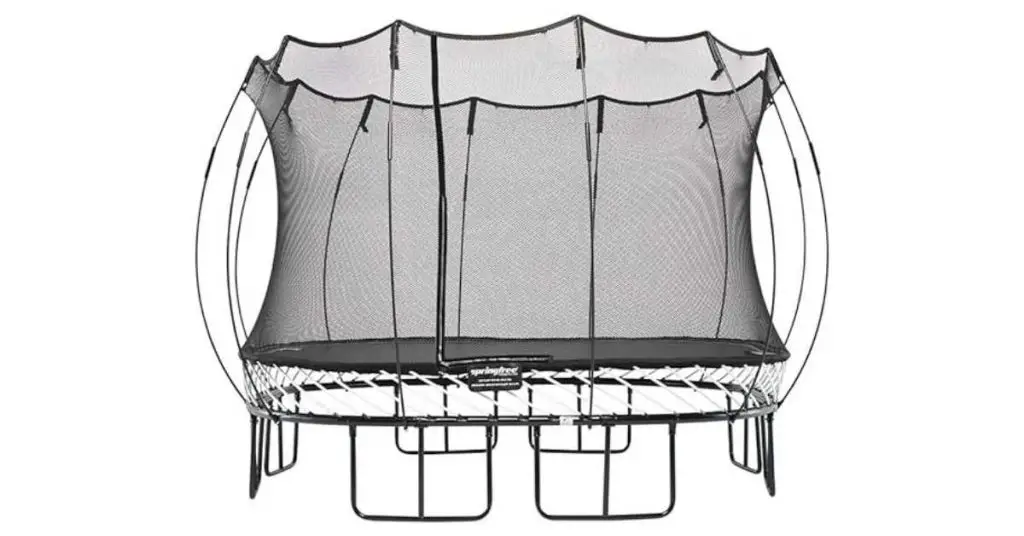 Springfree Jumbo Square
3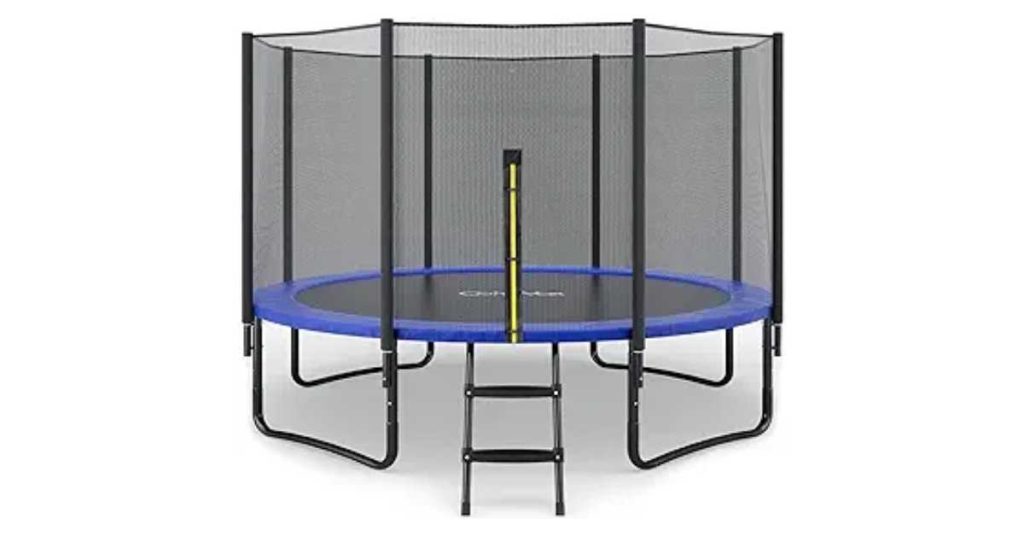 CalmMax Trampoline
5 Best Springless Trampoline: Reviews
Here's an overview of the best springless trampolines available:
Best for Adult Trampoline- SereneLife ASTM Approved with Net Enclosure
Best Outdoor Trampoline-  Springfree Kids Jumbo Square Trampoline
Best Kids Trampolines CalmMax Trampoline  Jump Recreational Trampolines
Best Backyard Trampoline- Springfree Kids Oval Trampoline with Safety Enclosure Net
Best Heavy Weight Trampoline- LeJump Flora Non-Spring ASTM Approved 
1. Best Trampoline for Adult – SereneLife ASTM Approved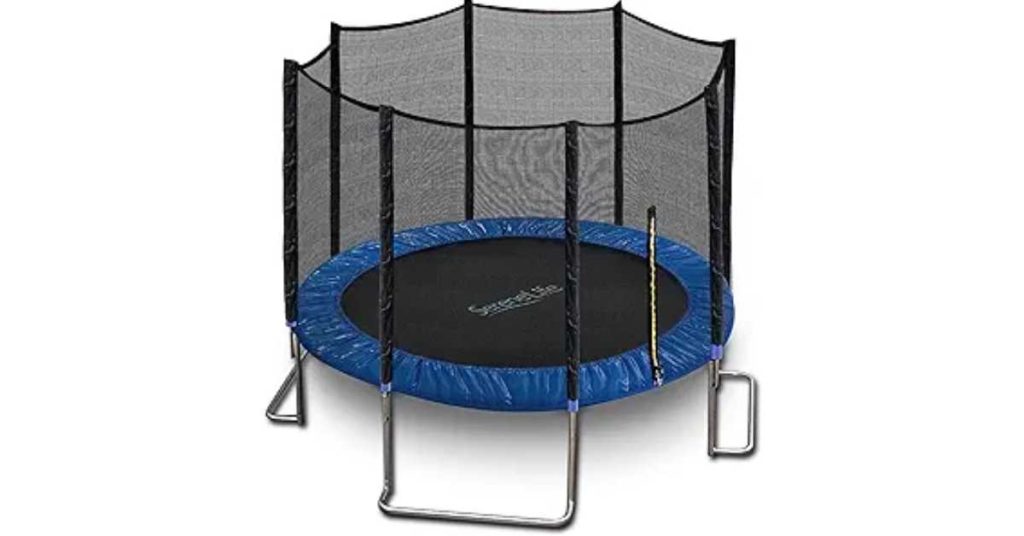 Specifications:
My brother was searching for a trampoline that would provide easy installation and require minimal effort, the SereneLife Trampoline immediately caught his attention. This trampoline offers a host of features that make it a fantastic choice for anyone looking to enjoy hours of bouncing fun. With its spacious 8-foot jumping area, accommodating users up to 264 pounds, it's the perfect trampoline for both parents and kids to enjoy together.
Easy Installation and Sturdy Construction
The SereneLife Trampoline is designed with simplicity in mind, making it incredibly easy to set up. Its heavy-duty galvanized steel frame ensures durability and longevity, meaning it will withstand years of regular use.
Knowing that it can handle the demands of active play gives my brother peace of mind, making this trampoline a great investment.
Safety First
One of the most crucial factors my brother considered when choosing a trampoline was safety. The SereneLife Trampoline prioritizes safety by including a protective net and thick padding.
This combination provides a secure and enjoyable experience for the entire family. The round shape and total assembled size of 96 x 96 x 94 inches make it ideal for placement in the backyard, allowing for ample space to bounce and play freely.
High Safety Standards
The SereneLife Trampoline has received our top rating for its outstanding safety standards. The thick padding surrounding the trampoline ensures protection against potential injuries.
Additionally, the tall net with dual closure adds an extra layer of safety by preventing accidental falls. These features give my brother peace of mind, knowing that his kids can have fun while being protected.
2. Best Square Trampoline –  Springfree Kids Jumbo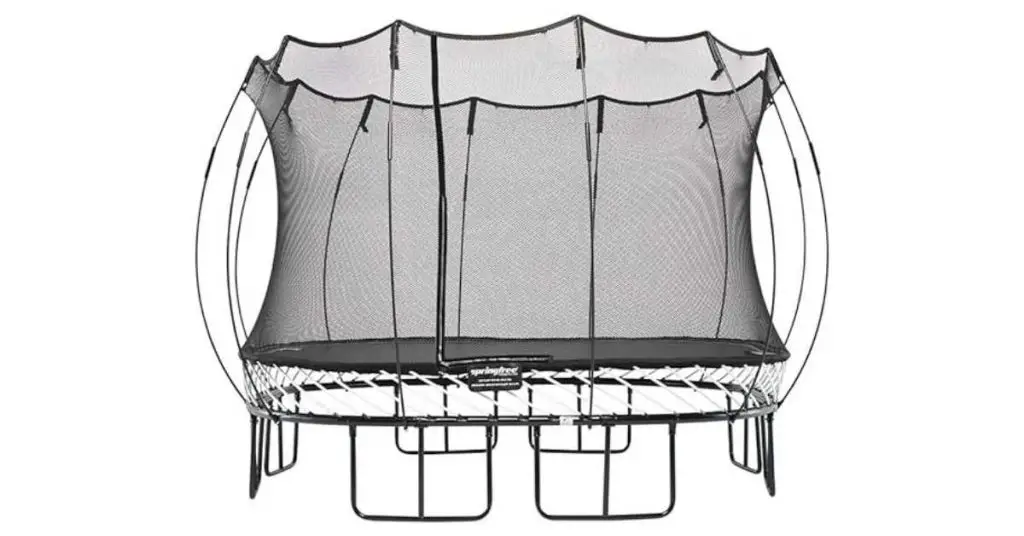 Specifications:
Are you tired of dealing with the discomfort and potential risks of using a traditional trampoline? Well, let me introduce you to the Springfree Trampoline. As my sister loves spending time outdoors and having a blast, I recently invested in this trampoline for my backyard. Let me tell you, it has completely transformed my trampolining experience!
No More Nasty Springs:
One of the most frustrating things about traditional trampolines is the rough, old springs that always seem to find a way to poke you. With the Springfree Trampoline, you can say goodbye to that annoyance.
The no-spring design utilizes flexible composite rods that are not only durable enough to hold up to 1100 pounds but also protect your feet from being pinched or trapped in those nasty springs. Now, I can bounce around without any worries.
Enhanced Safety Features:
The Springfree Trampoline goes above and beyond when it comes to safety. The three-layer protective frame is ingeniously designed to sit below the jumping pad, significantly reducing the chance of injury.
This gives me peace of mind, knowing that I can have fun without constantly worrying about potential accidents.
Shock-Absorbing Soft Edges:
Hard edges can be quite painful, especially if you accidentally land on them while bouncing. However, the Springfree Trampoline has solved this problem with its shock-absorbing soft edges.
Now, even if I happen to land near the edge, I don't have to worry about hurting my feet. It's a small but significant improvement that makes a world of difference.
Secure Enclosure:
Safety should always be a top priority, especially when it comes to trampolines. The Springfree Trampoline comes with a flexible safety net that encircles the jumping pad.
This ensures that my kids or friends can enjoy bouncing around while staying safely inside the trampoline at all times. It's a great feature that gives me peace of mind when I have others using the trampoline.
3. Best Kids Trampoline – CalmMax Trampoline  Enclosure Net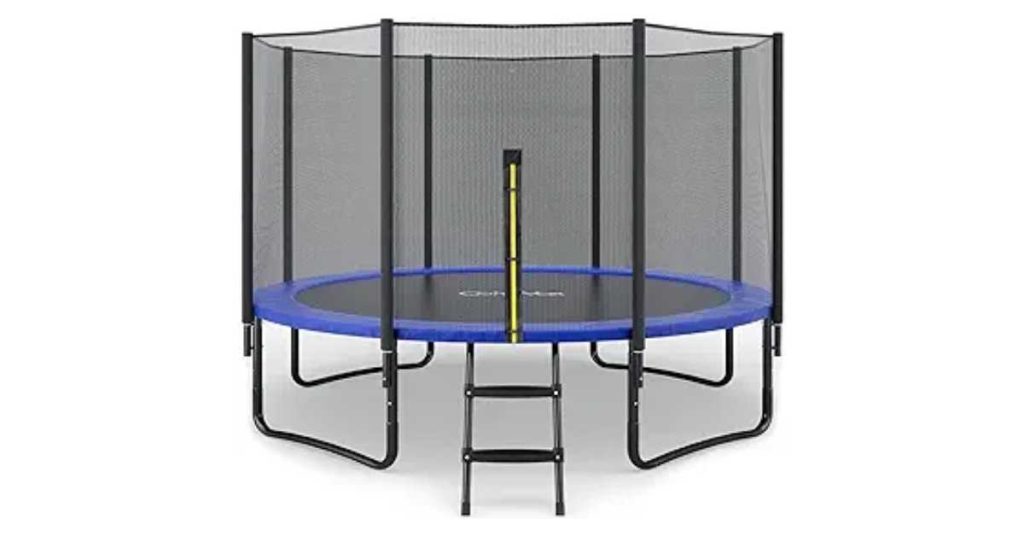 Specifications:
If you're in search of a safe and durable trampoline for your family, let me introduce you to the CalmMax Trampoline. As a friend who cares deeply about safety and quality, I recently came across this trampoline and I believe it could be the perfect fit for your needs. With its rigorous testing and impressive features, it ensures a secure and enjoyable trampolining experience.
Tested for Safety and Durability:
The CalmMax Trampoline has undergone thorough testing to ensure the highest level of safety. The jumping mat is crafted with EU standard polypropylene (PP), which has been tested for 5,000 hours and 20,000 jumps.
This guarantees its durability and longevity, making it suitable for long-lasting family fun. With a weight capacity of up to 400 pounds, it can easily accommodate multiple users.
Sturdy and Weather-Resistant Frame:
The frame of this trampoline is constructed with heavy-duty steel that has been galvanized with a layer of zinc. This provides excellent strength and stability, ensuring a secure bouncing experience.
Additionally, all the exterior frame parts are coated with a UV-resistant layer, protecting them from the sun's harmful rays and maintaining the trampoline's appearance over time.
4. Best Backyard Trampoline – Springfree Kids Oval Trampoline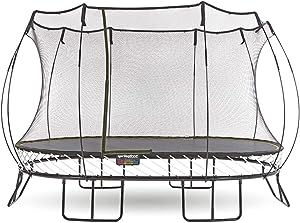 Specifications:
My uncle is searching for a top-of-the-line trampoline, the Springfree 8×13 ft Large Oval Trampoline has captured his attention. With its sleek design and advanced technology, this trampoline stands out in both aesthetics and functionality. Notably, its "No Spring" technology aims to eliminate injury risks. Let's dive into the review and explore its features in detail.
Technological and Aesthetic Marvel:
Sleek and stylish design with curved lines that catch the eye.
Innovative "No Spring" technology implemented by SpringFree Inc. for enhanced safety.
Weight Limit and Recommended Age:
Weight limit: 250 lbs (115 kg)
Recommended for ages 8 and above.
Frame:
Sturdy frame capable of handling a remarkable load of 1100 lbs (500 kg).
Double-layered powder coating on pre-galvanized steel ensures rust-free durability.
Testimonials from long-term owners confirm the trampoline's lasting visual appeal.
Springs:
No traditional steel springs; instead, 60 composite rods provide a safer bounce.
Fibreglass material reduces the risk of injury by up to 35% compared to frames or springs.
Rods are positioned entirely under the mat, eliminating the need for protective pads.
SoftEdge technology allows the net to be closer to the mat's edge, enhancing safety.
Fiberglass rods offer a safer and more consistent bounce experience.
Replacement of approximately 20% of the rods may be needed after 5-6 years.
Mat:
Polypropylene mat offers 92 sq. ft. (8.5 m²) of jumping space.
Shock absorbent and provides a pleasant bouncing experience.
Excellent bounce quality, although not as high as mid-class rectangle trampolines.
Equivalent jumping area to a 10×15 ft oval trampoline with springs.
Enclosure:
Enclosure made from durable polypropylene for longevity.
SpringFree's proprietary FlexiNet invention increases jumper security.
12 curved fiberglass enclosure rods strategically placed around the trampoline.
Fibreglass material ensures strength and flexibility, preventing breakage.
Ample space for the enclosure to stretch without touching the poles.
Assembly:
Assembly time is approximately three hours with the help of another person.
Manual instructions are mostly straightforward, except for step 7 regarding rod installation.
A video tutorial available through a QR code on the box offers clear guidance.
Warranty:
Basic warranty: 4 years on the frame and 1 year on other parts.
Extended warranty: Doubles the warranty period for the frame and other parts.
An extended warranty can be obtained for free by registering the trampoline.
5. Best Heavy Weight Trampoline – LeJump Flora Non-Spring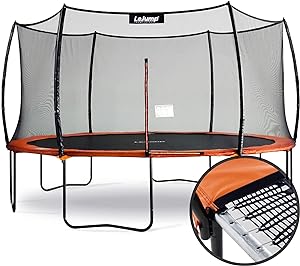 Specifications:
Are you looking for a trampoline that combines safety, durability, and style? Look no further than the LeJump 14FT Clear Round Trampoline. As a trampoline enthusiast myself, I have thoroughly researched this product and discovered some impressive features that make it a fantastic choice for both adults and kids. Let me share my findings with you.
Top-Rated Safety Certifications and Materials
LeJump takes safety seriously, and their trampolines are designed and manufactured with utmost care. This 14FT trampoline has obtained prestigious safety certifications such as ASTM F381-16, TUV, and CE.
These certifications guarantee that the trampoline meets stringent safety standards, providing you with peace of mind.
The frame is constructed from durable stainless steel, which is resistant to rust and ensures long-lasting performance. The enclosure net and jumping mat are made from high-quality materials that can withstand regular use and the elements.
With LeJump, you can trust that their trampolines are sturdy and robust, ensuring a safe jumping experience.
Responsive Customer Support and Spare Parts Availability
LeJump values customer satisfaction and aims to provide exceptional support. Their customer service team is quick to respond, typically within 24 hours, and offers efficient solutions to any queries or concerns you may have.
Additionally, LeJump has spare parts warehouses located throughout the US, ensuring that you can easily purchase or receive spare parts when needed.
This commitment to customer support enhances your shopping experience and assures you that your trampoline will be well-maintained in the long run.
Easy and Injury-Free Installation
Setting up a trampoline can sometimes be a daunting task, but LeJump makes it hassle-free. With your purchase, you receive gloves and spring tools that facilitate the installation process, making it quick and easy.
To further assist you, LeJump provides step-by-step video instructions on their website, ensuring that you have clear guidance at every stage. Installing your LeJump trampoline will be a breeze, allowing you to start enjoying it without delay.
Maximum Weight Recommendation and ASTM Compliance
LeJump Trampolines undergo rigorous testing to meet ASTM safety standards. While the maximum user weight recommended for this 14FT trampoline is 396 pounds, it is important to note that LeJump trampolines are tested to four times the maximum recommended user weight, ensuring an extra level of safety and durability.
With this trampoline, you can confidently invite friends and family to join in the fun without worrying about exceeding its weight limit.
Factors to Consider When Choosing a Springless Trampoline
When choosing a springless trampoline, there are several important factors to consider. Taking these factors into account will help you select the best springless trampoline that meets your needs and ensures a safe and enjoyable bouncing experience. Here are the key factors to consider:
Size and shape options:
Springless trampolines come in various sizes and shapes, such as round, rectangular, and oval. Consider the available space in your backyard and choose a size that fits well. Keep in mind that larger trampolines provide more jumping areas but require more space.
Weight capacity:
Check the weight capacity of the trampoline to ensure it can accommodate the intended users. It is important to select a trampoline with a weight limit that exceeds the weight of the heaviest individual who will be using it. This ensures safety and prevents excessive strain on the trampoline's components.
Construction materials and build quality:
Pay attention to the materials used in the construction of the trampoline. Look for a sturdy frame made from galvanized steel or other durable materials that can withstand outdoor conditions.
The jumping mat should be made of high-quality, UV-resistant fabric that can endure prolonged exposure to the sun without deteriorating.
Safety features:
Safety enclosure system: A springless trampoline should have a reliable safety enclosure system that prevents users from falling off the trampoline. The enclosure should be securely attached to the frame and have a sturdy netting material that can withstand impact.
Padding and frame protection: Check if the trampoline has ample padding around the frame and springs (if applicable) to minimize the risk of injuries from accidental impacts. The padding should be thick, durable, and securely attached to the trampoline.
Non-slip jumping surface: The jumping surface should be designed to provide good traction and prevent slipping. Look for trampolines with textured or anti-slip jumping mats to enhance safety.
Ease of assembly and disassembly:
Consider how easy it is to assemble and disassemble the trampoline. Look for models that come with clear instructions and require minimal tools for assembly. Quick and hassle-free disassembly is also beneficial, especially if you need to store or transport the trampoline.
Warranty and customer support:
Check the warranty provided by the manufacturer. A longer warranty period indicates the manufacturer's confidence in the product's quality. Additionally, consider the availability of customer support in case you encounter any issues or need assistance with the trampoline.
By considering these factors, you can make an informed decision when choosing a springless trampoline that offers durability, safety, and an enjoyable bouncing experience for you and your family.
Remember to thoroughly research and compare different models to find the one that best suits your specific requirements and preferences.
Safety Tips for Using Springless Trampolines
Using a springless trampoline can be a fun and safe way to enjoy bouncing and jumping. However, it's essential to follow safety guidelines to prevent accidents and injuries. Here are some safety tips for using springless trampolines:
Proper Assembly and Maintenance:
Ensuring the safety of your springless trampoline starts with proper assembly and diligent maintenance. It's crucial to meticulously follow the manufacturer's assembly instructions, making sure all components are securely in place. 
Regular inspections should be conducted to identify any damage or wear and tear. Components like the frame, mat, and safety enclosure must be in optimal condition to provide a safe bouncing experience.
Adult Supervision:
Adult supervision is paramount when it comes to trampoline safety, especially if children are using it. Responsible adults should always be present to oversee trampoline activities. 
Furthermore, it's advisable to limit trampoline use to one person at a time, particularly for smaller trampolines, to minimize the risk of collisions and accidents.
Safe Jumping Practices:
Teaching safe jumping practices is essential to prevent injuries. Users should be educated on the importance of jumping in the center of the mat, away from the edges where accidental falls can occur. 
It's advisable to discourage attempting flips or somersaults unless individuals are properly trained to do so under the supervision of a qualified instructor. Roughhousing or horseplay on the trampoline should also be avoided.
Weight Limits and User Guidelines:
Adhering to weight limits and user guidelines set by the manufacturer is crucial for trampoline safety. These limits are established to ensure that the trampoline can support the weight and size of the users without compromising its integrity. 
In addition, it's important to make sure that users are of an appropriate age and size for the specific trampoline model being used.
Wear Appropriate Attire:
Users should wear suitable attire when using the trampoline to ensure a safe and comfortable experience. 
Athletic clothing and socks with good traction are recommended. Sharp objects, including jewelry and accessories, should be removed to reduce the risk of injury while jumping.
No Shoes Allowed:
To protect the trampoline mat and ensure user safety, it's essential to establish a "no shoes" policy. Users should not wear shoes while on the trampoline, as footwear can potentially cause damage to the mat and create unnecessary hazards.
Weather Conditions:
Trampoline use should be restricted to suitable weather conditions. Avoid using the trampoline during adverse weather, such as strong winds, rain, or snow, as these conditions can compromise safety and stability. 
Additionally, if water or debris accumulates on the mat, it should be removed promptly to prevent slipping and ensure a safe surface for jumping.
Safety Enclosure:
If your springless trampoline is equipped with a safety enclosure, it's vital to ensure that it is properly and securely in place. The enclosure serves as an additional safety feature, preventing users from falling off the trampoline. 
However, users should be educated not to jump or lean against the enclosure netting to maintain a safe distance from its structure.
Emergency Plan:
Establishing an emergency plan is a proactive safety measure. In case of an accident or injury, it's essential to have a well-thought-out response strategy. 
Keep a well-equipped first-aid kit nearby and ensure that responsible individuals know how to use it. Prompt and appropriate response to injuries is critical for user safety.
Regular Maintenance:
To uphold the safety and durability of your springless trampoline, regular maintenance is required. Periodically inspect the trampoline's components and replace any that are damaged or show signs of wear. 
Lubricating the joints, if necessary, can help maintain a smooth and consistent bounce, promoting a safer trampolining experience.
By following these comprehensive safety guidelines, you can enjoy the numerous benefits of a springless trampoline while minimizing the risk of accidents and injuries. Safety should always be the foremost consideration when using recreational equipment.
FAQs
Q.1 What is a springless trampoline?
A springless trampoline is a type of trampoline that does not use traditional metal springs to provide a bounce. Instead, it utilizes alternative mechanisms, such as elastic bands or flexible rods, to create a safer and more controlled bouncing experience.
Q.2 Why should I consider a springless trampoline?
Springless trampolines offer enhanced safety features, as they eliminate the risk of spring-related injuries. They also provide improved bounce quality, increased durability, and minimal maintenance requirements compared to traditional spring-based trampolines.
Q.3 Are springless trampolines suitable for all ages?
Yes, springless trampolines are generally suitable for all ages. However, it is essential to check the weight capacity and follow the manufacturer's recommendations to ensure safe usage. Some models may have specific weight limits or age recommendations.
Q.4 Can I use a springless trampoline indoors?
Yes, certain springless trampolines are designed for indoor use. They are typically smaller in size and have features like foldable frames or low-impact bouncing surfaces, making them suitable for indoor play areas or fitness activities.
Q.5 Are springless trampolines more expensive than traditional trampolines?
Springless trampolines may have a slightly higher upfront cost compared to traditional trampolines due to their advanced design and safety features. However, considering their durability, reduced maintenance needs, and improved safety, they can provide better long-term value for money.
Conclusion
In conclusion, the article "5 Best Springless Trampolines: Easy Guide and Reviews [2023]" provides comprehensive reviews of the top five springless trampolines available in the market. Each trampoline offers unique features and benefits suited for different needs.
The SereneLife ASTM-approved trampoline is recommended as the best option for adults. It boasts easy installation, sturdy construction, and a high level of safety with its net enclosure.
For outdoor use, the Springfree Kids Jumbo Square Trampoline is highly recommended. It eliminates the need for traditional springs, ensuring a safer jumping experience. It also features shock-absorbing soft edges and a secure enclosure for enhanced safety.
The CalmMax Trampoline is an excellent choice for kids, offering tested safety and durability. Its sturdy and weather-resistant frame ensures longevity and reliability for outdoor play.
When selecting a springless trampoline, it is important to consider factors such as size and shape options, weight capacity, construction materials, safety features, ease of assembly, and warranty. These considerations will help ensure that you choose the best trampoline that meets your specific requirements.
Overall, by referring to this guide and the detailed reviews provided, readers can make an informed decision and find the perfect springless trampoline that combines safety, durability, and enjoyment for their family's recreational activities.
We hope that after reading this detailed guide about the best springless trampolines, you have a good understanding of the different options available. If you have any questions, please don't hesitate to leave a comment below. We're here to help!