I've often wondered if it can make me taller. It's a question that has sparked curiosity and led me to seek answers. After diving into research and exploring various perspectives, the answer seems a bit more complex than a simple yes or no.
Did you want to know, "Does jumping on a trampoline make you taller?" Jumping on a trampoline can potentially contribute to height growth, but it's not a guaranteed solution. Age, genetics, and overall body structure significantly determine height. 
While trampoline jumping can provide benefits like improved posture, strengthened bones, and enhanced muscle development, it may not directly result in substantial height increases.
It's important to approach the idea of trampolines and heights with realistic expectations. While potential benefits can be gained, height growth is a multifaceted process influenced by numerous factors. 
Engaging in regular exercise, maintaining a balanced diet, and focusing on overall health and wellness are key components to promote optimal growth and development.
So, while trampolining can be a fun activity, it's important to understand that its impact on height growth may be indirect rather than a direct mechanism for increasing height.
Can Trampoline Make You Taller: While trampolines can provide various health benefits, such as improved posture and strengthened bones, no scientific evidence suggests that they can directly make you taller.
Does Jumping on a Trampoline Make You Taller?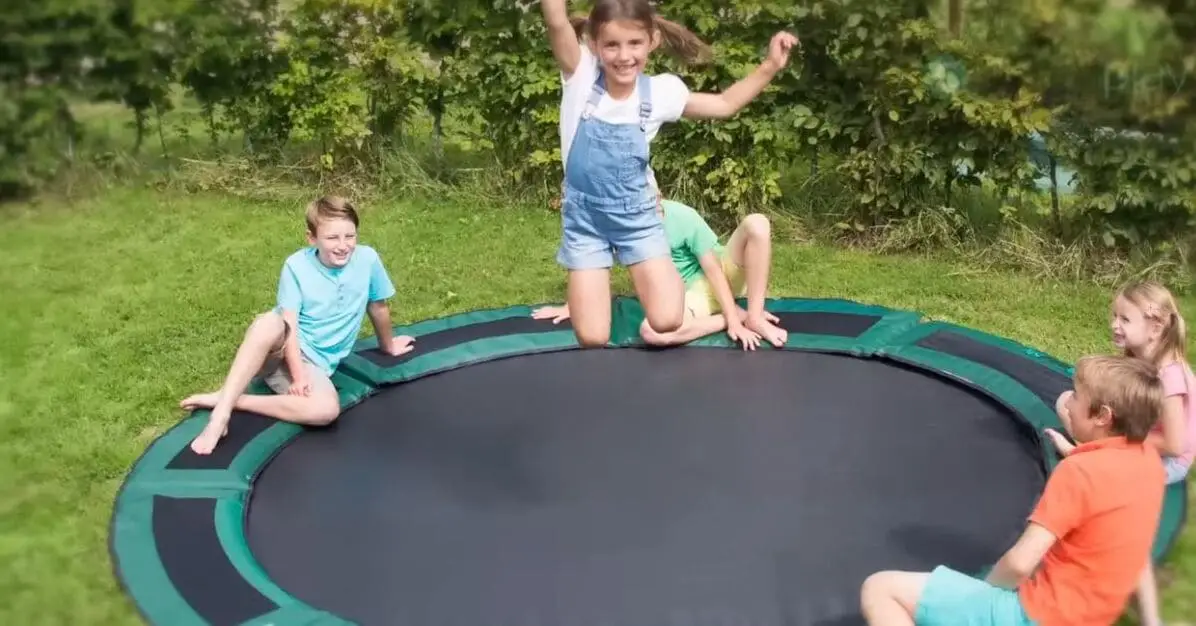 No, jumping on a trampoline won't make you taller. However, there are still some benefits to consider:
Jumping on a trampoline can improve your heart health by strengthening the muscles in your lower body and improving blood circulation. This can be beneficial for your overall well-being.
Additionally, jumping on a trampoline can help improve balance and flexibility. It can be especially useful for children learning new skills like running or riding a bike without training wheels.
So, while jumping on a trampoline won't make you taller, it can still positively affect your body.
Does Trampoline Jumping Affect Growth Plates?
Your body has special soft areas of bone at the ends of your long bones called growth plates. When you grow taller, your bones add new layers of bone to these growth plates. But these plates stop growing when you become an adult because they fuse.
Jumping on a trampoline puts pressure on your entire body, but it affects the lower part of your body the most. When you jump and then land on a trampoline, most of your weight is focused on one foot at a time as it touches the trampoline.
Jumping on a trampoline can put a lot of pressure on the soft areas of bone called growth plates. For some people, this pressure can cause small cracks in the bone tissue around these plates. 
In rare cases, this can lead to the growth plates fusing too early or even stopping growth altogether. It's important to be cautious and not put too much stress on your body, especially if you're regularly jumping on a trampoline.
Can Trampolining Decrease Your Height?
Jumping on a trampoline is a fun activity that provides numerous health benefits. It's important to understand that it won't make you shorter, and it can be beneficial for your overall health and bone development, especially if you're a child.
Our bones and muscles are still growing and developing during childhood and adolescence. Regular exercise, including jumping on a trampoline, stimulates the growth of these structures. Jumping on a trampoline helps improve bone density, muscle strength, and coordination.
While it is rare, microfractures can occur in the bones around the growth plates when jumping on a trampoline. Growth plates are areas of soft, developing bone at the ends of long bones that contribute to our growth. 
In some cases, excessive stress or repetitive impact from jumping on a trampoline could lead to injuries or premature fusion of the growth plates, which may result in growth stunting.
However, it's important to note that the risk of stunting from jumping on a trampoline is minimal, especially when proper safety precautions are followed. 
Jumping on a trampoline can help strengthen the bones and muscles around the growth plates, making them more resilient and better prepared for more intense physical activities in the future.
To ensure safety and minimize the risk of injury, it's essential to use a trampoline appropriate for your age and size, follow safety guidelines, and supervise children when jumping. 
By enjoying trampoline jumping responsibly, you can reap the benefits of exercise and have fun without any negative impact on your height.
Can Jumping on a Trampoline Stunt Your Growth?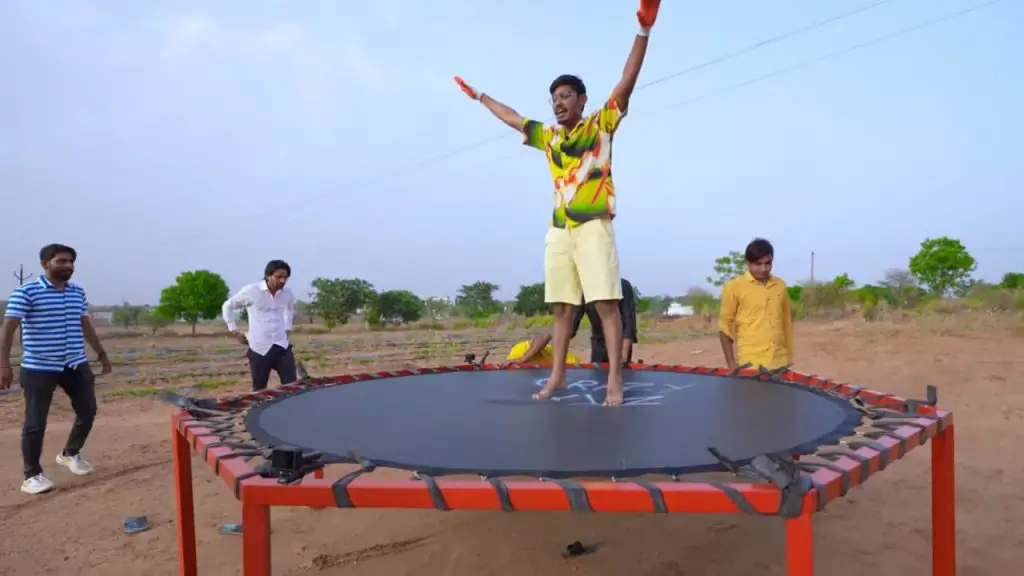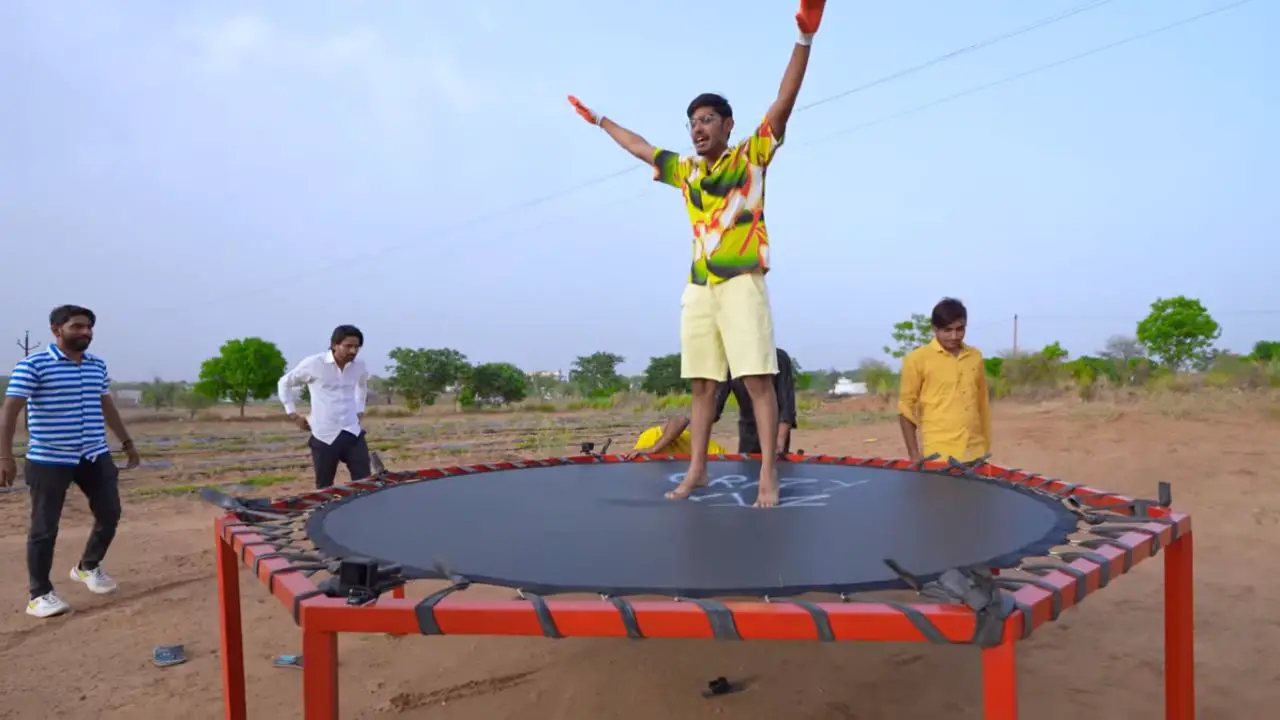 If you're a child, jumping on a trampoline is unlikely to stunt your growth. It can benefit your overall health and help you reach your maximum height potential.
Kids who regularly spend time on trampolines are generally healthier, which can contribute to proper growth and development.
However, for adults and individuals who have already stopped growing, jumping on a trampoline will not affect their height. The impact of trampoline exercise on growth is mainly relevant during the growth and development stage of childhood.
Why Jumping on Trampolines Doesn't Increase Your Height?
Trampoline companies often claim that jumping on a trampoline can make you taller by stimulating growth plates and stretching your spine. However, this is not true. 
The height gained from sleeping is due to your body returning to its natural state as gravity acts on it from a different direction while lying down, not from stretching.
Trampolines don't counteract gravity or induce perfect relaxation, so they can't provide temporary height gain.
Regarding claims of stimulating growth plates for permanent growth, while exercise benefits growth, trampolines are not particularly special. 
Under proper guidance, organized sports can promote growth without posing a significant risk of injury. However, trampolines can be risky, especially for unsupervised children who may not prioritize safety.
To maximize height potential, participating in organized sports leagues is more effective and safer than spending extensive time on a trampoline. Proper safety precautions like safety nets are crucial when using trampolines. 
Additionally, significant muscle growth usually requires exhaustive use, which is unlikely to happen on a trampoline during regular play.
Is it Advisable to Purchase a Trampoline?
Now, you might have second thoughts about buying a trampoline since it won't make your child taller. However, trampolines are still cool and fun to have! 
It's puzzling why trampoline companies insist on spreading this strange lie about increasing height when the real reason to get a trampoline is simply that you or your children enjoy jumping on it.
If your sole purpose for wanting a trampoline was to boost height, we suggest considering joining an amateur sports league instead. Taking a nap would likely have more impact on height than a trampoline.
However, if you genuinely enjoy trampolining, there's nothing wrong with getting a trampoline. Just remember to prioritize safety and take precautions to keep everyone protected while they play. 
Installing a safety net around the trampoline and establishing strict rules can greatly reduce the risk of injuries that could stunt growth.
Ultimately, it's about having fun and staying safe rather than relying on a trampoline to make you taller.
Trampolines: Fun Exercise Equipment
Trampolines are great if you want to add a low-impact workout to your daily routine. When we jump on a trampoline, our body naturally stretches, which can help us become a bit taller.
It's kind of like doing yoga, but instead of stretching on a mat, we're jumping. It's also similar to playing basketball.
Basketball players are usually the tallest people in sports because they jump and stretch their backs to make shots. Each jump helps their bones grow a little, which makes them taller than most people.
The best thing about using trampolines regularly is that it doesn't hurt our bones. Jumping can prevent bone diseases like osteoporosis and chronic arthritis.
Trampolines: A Fun Way to Aid Weight Loss
Absolutely! Trampolines offer an enjoyable way to incorporate exercise into our routine and can positively affect our body and height. Regular use of trampolines, which involves repetitive jumping and stretching of our backs, arms, and legs, can contribute to weight loss. 
This is because jumping on a trampoline is a form of cardio exercise that burns calories and helps to improve overall fitness.
In addition to weight loss, using trampolines can give the appearance of being taller. When we jump and stretch on a trampoline, our body is naturally elongated, and this temporary increase in height can create the illusion of being taller than usual. 
It's important to note that this increase in height is temporary and mostly due to improved posture and body alignment during and after using the trampoline.
One of the benefits of trampoline exercise is the continuous stretching it provides for our backs. As we jump and bounce, the repetitive stretching motion helps to loosen up the muscles in our back and improve flexibility. 
Over time, this can lead to improved posture as our back muscles become more accustomed to stretching. By maintaining good posture, our spine is aligned properly, and we can stand taller and appear taller as a result.
While trampolines can contribute to an improved appearance in terms of height, it's important to understand that the increase in height is limited to the temporary elongation of the body and the improved posture it promotes. 
Trampolines cannot make us physically grow a few inches taller in terms of bone growth or skeletal development.
Nevertheless, the combination of regular trampoline use, weight loss, improved posture, and body alignment can give us a sense of increased height and contribute to a more confident and healthier lifestyle.
Can Trampolines Help Increase Height?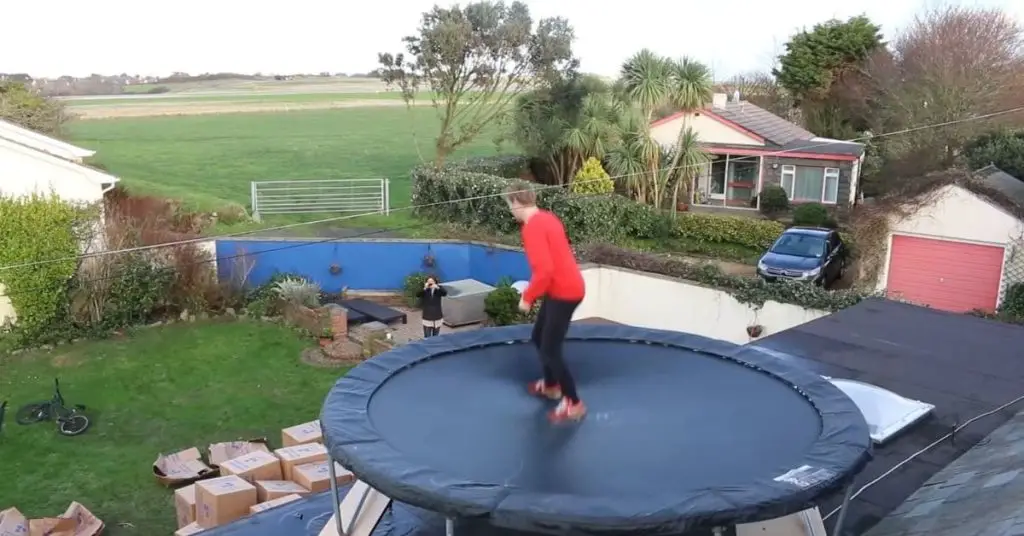 Certainly! Like any workout, using a trampoline effectively is crucial if we want to maximize its potential for helping us grow taller.
To achieve this, we need to incorporate specific moves and maximize our time spent jumping.
One key aspect of increasing height is to keep our body in constant motion. Simply sitting on the trampoline and bouncing won't lead to height growth. It can have the opposite effect by promoting slouching and poor posture.
Therefore, engaging in active movements rather than passive bouncing is important to make the most of our trampoline sessions for height growth.
This can include various exercises and jumps that involve stretching and extending our body, promoting good posture and elongation.
By incorporating these moves and utilizing our jumping time efficiently, we can potentially enhance our chances of growing taller.
Reaching for Height: Stretching Your Arms on the Trampoline
One important aspect to keep in mind while jumping on the trampoline is to raise our arms in the air. Keeping our arms by our sides won't increase our height or improve our posture. 
To maximize the benefits, we should stretch and elongate our entire body, which involves raising our arms whenever we jump.
Imagine it like picking apples from a tall tree. Each jump allows us to reach the highest branches and gather the most (imaginary) apples. 
So, by reaching up high with our arms, we can make the most out of our trampoline session and potentially enhance our height and overall body alignment.
Boosting Height: Adding Energetic Jumps to Your Trampoline Routine
To maximize the effectiveness of our trampoline routine for height growth, lifting the opposite leg while jumping instead of just jumping up and down is beneficial. We should aim to raise the leg with each jump as high as possible. 
We can progress to air kicks once we become comfortable with this move. This involves jumping on one leg and kicking the air with the other leg. This exercise provides a great stretch and helps elongate our bones, potentially contributing to height growth.
In simpler terms, while using the trampoline, it's important to lift the leg that is opposite to the one we're jumping on. This adds an extra challenge and can be more effective for increasing height. Once we feel confident with this move, we can try air kicks. 
This means jumping on one leg and swinging the other leg forward as if we're kicking the air. It's a fun way to stretch our bodies and potentially promote bone elongation, which can help us grow taller.
Does Trampolining Affect Natural Growth?
Certainly! Bouncing on a trampoline can have a positive impact on your natural growth.
Using a trampoline for fun won't hinder your normal development, and there is evidence suggesting that it may even help you build muscle, which could contribute slightly to your height.
For instance, a study published in Europe Pubmed Central found that young individuals who regularly use trampolines tend to have higher bone mineral density than those who don't.
Researchers believe that the impact experienced when landing on a trampoline can stimulate bone growth by increasing blood flow to the area and the body's ability to absorb calcium. 
As a result, you can potentially develop stronger and healthier bones, giving you a chance to reach your expected height potential.
However, there's an important caveat to keep in mind. While trampolining can support reaching your original height potential, it's crucial to be cautious about the risk of injuries, such as microfractures.
Regular trampoline use can increase the likelihood of injuries, especially for youngsters. Unfortunately, such injuries can impede achieving the expected height potential. 
That's why the American Academy of Pediatrics advised parents in 2012 to minimize trampoline use for their children as much as possible.
If you still desire to have a trampoline in your backyard, it is recommended to implement safety measures like using safety nets and providing a soft landing surface. These precautions will help reduce the risk of stunting your child's growth due to potential injuries.
What Exercises on a Trampoline Can Help Increase Height?
If you want to become taller, using a trampoline can be a fun and effective method. Bouncing on a trampoline stimulates the growth hormones in your body, which may contribute to height increase. 
However, it's essential to understand that genetics primarily determine your height, and exercise alone may not lead to significant height growth.
That being said, here are some exercises you can attempt on a trampoline that might support height increase:
Bring your Knees Towards your Chest: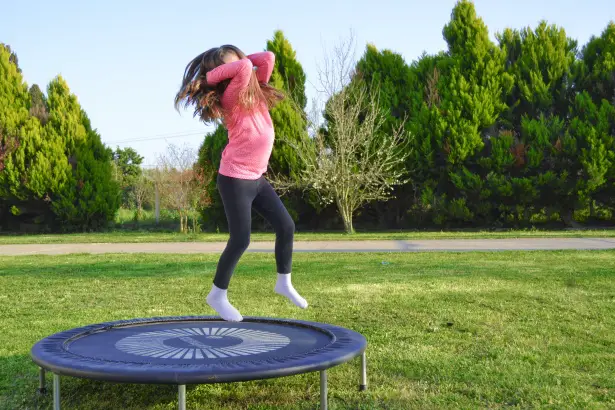 To perform knee lifts on a trampoline, start by standing in the middle with your feet hip-width apart.
Jump up and bring your right knee towards your chest, then repeat the same movement with your left knee. 
Aim to do 10-15 repetitions on each side. This exercise helps engage your leg muscles and promotes good posture. Enjoy your trampoline workout!
Jump up High and Extend your Legs Forward:
Pike jumps on a trampoline are an advanced exercise that can enhance height and flexibility. Begin by jumping as high as you can, then straighten your legs out in front of you before landing. 
Try to perform 10-15 repetitions of this exercise. Pike jumps engage your muscles and work on your flexibility. Remember to take it at your own pace and enjoy the benefits of this challenging exercise on the trampoline.
Drop Back Down:
Seat drops on a trampoline can be beneficial for stretching and strengthening your leg muscles, potentially aiding in height increase. Start by sitting on the trampoline with your legs extended in front of you. 
Then, rapidly lift your legs off the trampoline and drop back down onto it. Aim to do 10-15 repetitions of this exercise. Seat drops engage your leg muscles and provide a good workout. 
Remember to perform the exercise carefully and enjoy the benefits it can bring to your trampoline routine.
Jump up and Tuck your Knees:
Tuck jumps on a trampoline are an advanced exercise that can potentially contribute to height increase. Begin by jumping up as high as possible, and then bring your knees towards your chest before landing. 
Aim to repeat this movement for 10-15 repetitions. Tuck jumps engage your muscles and offer a challenge to your workout. Remember to listen to your body and perform the exercise safely. Enjoy the benefits of tuck jumps as part of your trampoline routine!
Jump up while Bringing your Knees Up:
High knee jumps are an advanced exercise on a trampoline that may assist in height growth. Start by jumping up as high as possible, then bring your knees up towards your chest before landing. 
Aim to perform 10-15 repetitions of this exercise. High knee jumps engage your muscles and challenge your workout routine. Remember to prioritize safety and listen to your body's limits. Enjoy the benefits of high knee jumps as part of your trampoline workout!
Classic Jumping Jack Motion:
Jumping jacks are a fantastic warm-up exercise to prepare your body and increase your heart rate before doing more challenging trampoline exercises. To do a jumping jack, simply jump up while simultaneously spreading your legs and arms wide. 
Then, return to your starting position by bringing your legs back together and your arms down by your sides. This exercise gets your blood flowing and prepares your muscles for the more advanced moves on the trampoline.
Enjoy your warm-up with jumping jacks, and have a great trampoline workout!
What Factors Influence Height and Growth in Children?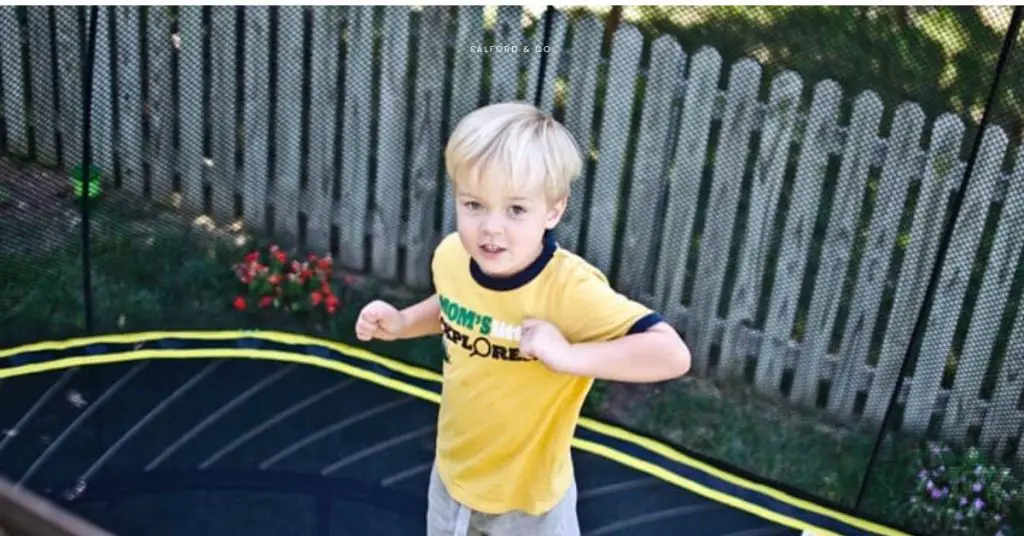 During childhood, children experience ongoing changes in their bodies. Their height, weight, and head size can fluctuate significantly from month to month, and growth spurts can happen at different times for each child. 
Several factors, such as genetics, nutrition, and physical activity, contribute to a child's growth rate. However, the most significant factor is age.
The Role of Genetics in Determining Height and Growth
Some individuals have a natural predisposition to be tall due to their genetics. While genetics do influence height, they are not the sole determining factor. 
Height often runs in families, but it's possible for parents who are shorter in stature to have a child who ends up taller than them. Additionally, bone growth plates contribute to the growth process as children mature.
The Impact of Age on Height and Growth in Children
Children experience significant growth during puberty, typically between the ages of 8 and 12. During this time, height undergoes a noticeable increase, with girls growing approximately four inches and boys growing around five inches.
Hormones, such as estrogen and testosterone, play a significant role in this growth spurt.
Can a Person Continue to Grow Taller After Reaching Puberty?
Can someone increase their height by a few inches after their growth plates have fused? In short, the answer is generally no.
However, if a person is still experiencing growth and has not reached their genetically determined height potential, some strategies may enhance their appearance of being taller.
The Role of Hormones and Growth Plates in Height Development
Hormones have various essential bodily functions, such as regulating metabolism, controlling reproductive processes, and sending signals for bone growth. 
These hormones are produced by endocrine glands, including the pituitary gland, hypothalamus, and pineal gland. However, none of these glands or their hormones directly affect a child's height or growth.
Growth plates are specialized areas located near the joints. They appear during specific stages of development and play a crucial role in ensuring that long bones grow properly and reach their full potential length. Once their job is completed, the growth plates dissolve and disappear.
The Advantages of Children Jumping on a Home Trampoline
You may have experienced a time when your friends were taller than you, and you wished to catch up in height. Although no scientific evidence supports this claim, many parents believe that trampolines provide a workout for both muscles and bones based on their personal experiences.
While jumping on a trampoline may not directly make you grow taller, it does have several beneficial effects on your body:
Balance in Trampoline Jumping for Kids:
Jumping on a trampoline is a great way to improve your balance skills. It helps you develop stability and coordination, which can be useful in various sports and activities that require quick movements and agility. Practicing balance on a trampoline can enhance your overall athletic performance.
Building Endurance through Trampoline Jumping for Kids:
Jumping on a trampoline is an excellent way to develop muscle endurance. The repetitive jumping motion helps strengthen and condition the muscles over time. This is particularly beneficial for kids who are involved in multiple sports or play sports year-round. 
Children can enhance their stamina and perform better in various physical activities by improving muscle endurance through trampoline jumping.
Other Factors Affecting Height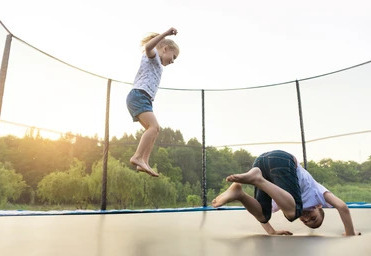 Various factors beyond genetics, age, and hormones influence height. Here are some additional factors that can affect a person's height:
Nutrition: 
Adequate nutrition is crucial for supporting proper growth and development. A well-balanced diet that includes a variety of nutrient-rich foods provides the body with the necessary building blocks for optimal height development. 
Essential nutrients, such as proteins, calcium, vitamin D, and zinc, play a significant role in bone health and growth.
Sleep: 
Sufficient and quality sleep is essential for growth. During sleep, the body releases growth hormones that contribute to height development. It is recommended that children and teenagers get the recommended amount of sleep each night to support their overall growth and development.
Exercise and Physical Activity: 
Regular physical activity and exercise have numerous benefits for overall health, including potential support for height development. Engaging in activities that promote stretching, flexibility, and strengthening of the muscles can be beneficial. 
However, it's important to note that exercise alone may not significantly impact height growth after fusing growth plates.
Environmental Factors: 
Environmental factors can also influence height. Living conditions, access to healthcare, and exposure to pollutants can impact growth and development. 
A healthy and supportive environment, including a clean and safe living environment, access to nutritious food, and proper healthcare, can contribute positively to height potential.
Health Conditions: 
Certain medical conditions can affect height. Hormonal imbalances, such as growth hormone deficiencies or thyroid disorders, can impact height growth. 
Additionally, skeletal abnormalities or chronic illnesses that affect nutrient absorption or bone development may also affect height. It is important to address any underlying health concerns that may be impacting growth and seek medical advice if necessary.
It is important to understand that while these factors can somewhat influence height, individual variations and genetics play a significant role in determining a person's ultimate height potential.
Tips for Maximizing Height Growth
While height is primarily determined by genetics and other factors beyond our control, some tips may help maximize height growth during the growing years:
Ensure Proper Nutrition: 
A balanced diet with adequate nutrients, vitamins, and minerals intake is important for overall growth and development. Focus on consuming a variety of nutrient-rich foods, including fruits, vegetables, whole grains, lean proteins, and dairy products.
Get Sufficient Sleep: 
Quality sleep is essential for growth as the body releases growth hormones during deep sleep. Aim for your age group's recommended amount of sleep to support optimal growth.
Maintain a Healthy Lifestyle: 
Engage in regular physical activity and exercise to promote overall health and potentially support height development. Incorporate activities that focus on stretching, flexibility, and muscle strengthening.
Practice Good Posture: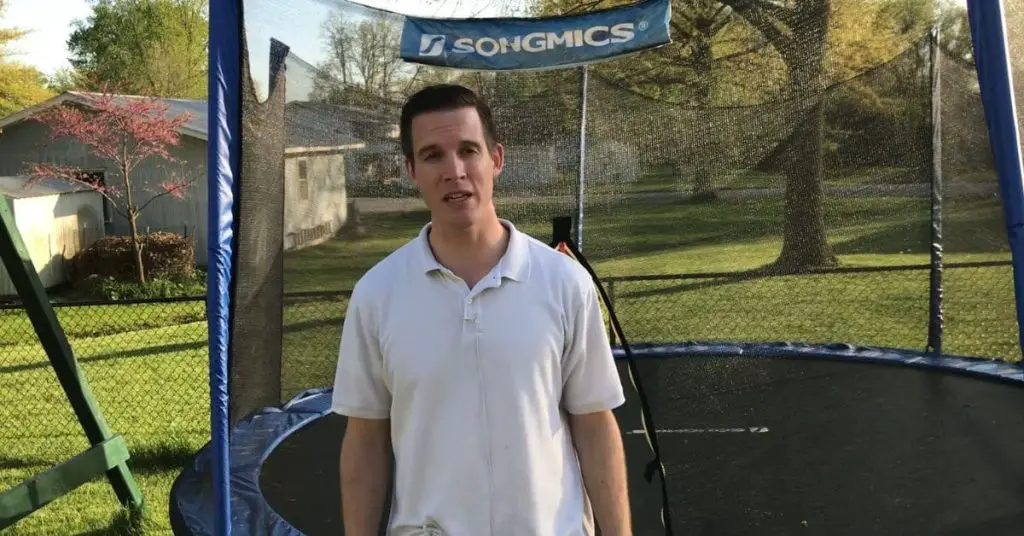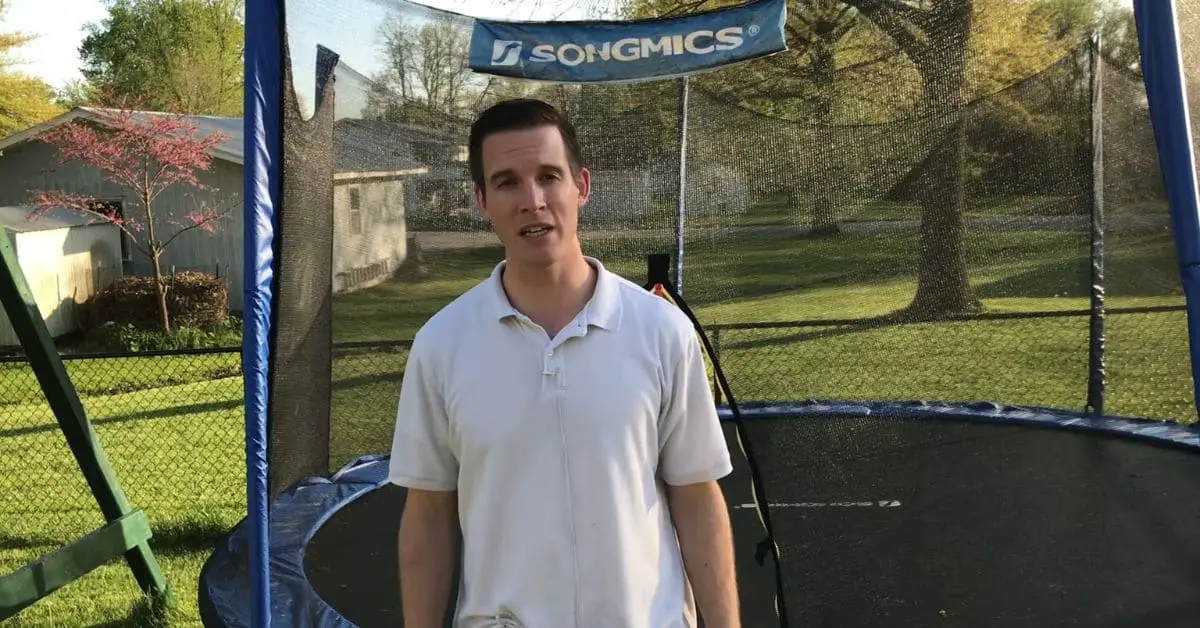 Maintaining good posture helps to optimize the height potential. Pay attention to your posture while sitting, standing, and walking. Sit straight, keep your shoulders back, and properly align your spine.
Avoid Unhealthy Habits: 
Certain habits, such as smoking and excessive alcohol consumption, can negatively impact growth and overall health. Avoid these habits to ensure optimal growth potential.
Seek Medical Advice if Concerned: 
If you have concerns about your height or growth, it is recommended to consult with a healthcare professional or a pediatrician. They can assess your situation, provide guidance, and address any underlying health issues that may be affecting growth.
Remember, it's important to have realistic expectations, as height is largely determined by genetics. Focus on maintaining a healthy lifestyle, supporting overall well-being, and embracing your unique qualities.
Potential Benefits of Trampoline Exercise
Trampoline exercise offers several potential benefits for individuals of different ages and fitness levels. Some of these benefits include:
Cardiovascular Fitness: 
Jumping on a trampoline can provide an effective cardiovascular workout. The repetitive bouncing motion increases heart rate and helps improve cardiovascular endurance over time.
Improved Coordination and Balance: 
Trampoline exercise requires coordination and balance to maintain control while jumping. Regular practice can enhance these skills, benefiting overall motor skills and athletic performance.
Muscle Strength and Tone: 
Jumping and landing on a trampoline engages various muscle groups, including the legs, core, and glutes. This can help strengthen and tone these muscles over time.
Joint and Bone Health: 
The low-impact nature of trampoline exercise reduces stress on the joints compared to activities like running. This makes it suitable for individuals with joint issues or those looking for a gentler workout. 
Additionally, the impact of landing on the trampoline can stimulate bone density, contributing to better bone health.
Lymphatic System Stimulation: 
The bouncing motion of trampoline exercise can help stimulate the lymphatic system, which plays a role in removing toxins and waste from the body. This can potentially improve immune function and overall detoxification.
Fun and Enjoyable: 
Trampoline exercise is often viewed as a fun activity, making staying motivated and consistent with workouts easier. It can be a great way to add variety to an exercise routine and make physical activity more enjoyable.
Remember to always prioritize safety while using a trampoline. Follow proper techniques, consider using safety equipment such as safety nets and padding, and ensure the trampoline is in good condition. 
If you have any health concerns or pre-existing conditions, consult a healthcare professional before starting any new exercise regimen.
Safety Considerations for Trampoline Use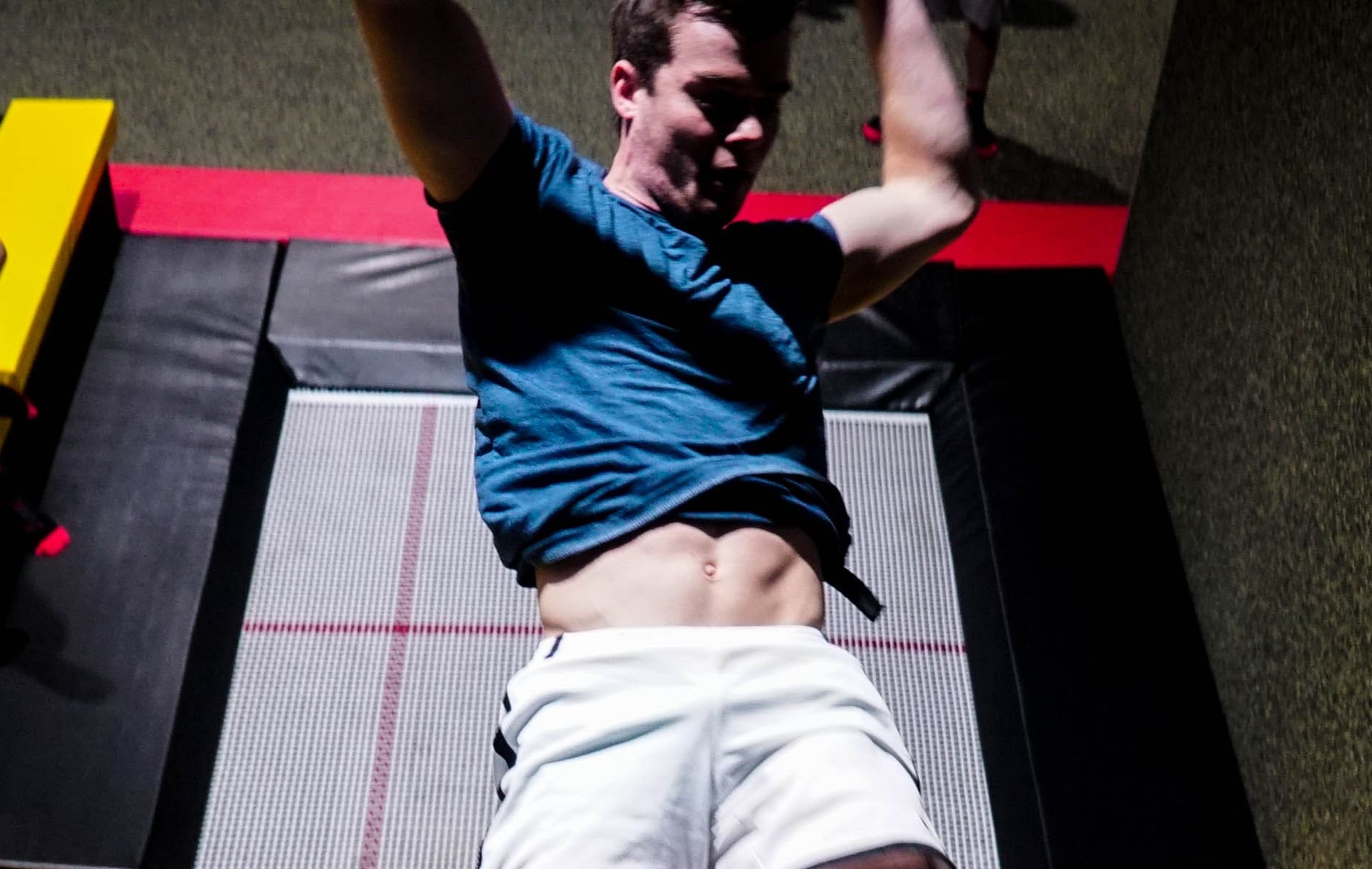 While trampolines can be an enjoyable exercise, it's important to prioritize safety to prevent injuries. Here are some key safety considerations to keep in mind when using a trampoline:
Supervision: Ensure that there is proper adult supervision whenever children are using a trampoline. An adult should be present to monitor and guide the activities, especially for younger children.
Trampoline Placement: Place the trampoline on a level surface away from structures, trees, or any other potential hazards. Ensure there is ample space around the trampoline, free from obstructions.
Safety Equipment: Consider using safety equipment such as safety nets, padding, and spring covers. Safety nets can help prevent falls off the trampoline, while padding and spring covers can minimize the risk of injury from contact with the springs and frame.
Proper Use and Technique: Teach and reinforce proper trampoline use and techniques. Encourage users to jump in the center of the trampoline, avoid somersaults or flips unless under proper supervision, and not jump off the trampoline onto the ground.
Age and Size Restrictions: Follow the manufacturer's guidelines regarding age and weight limits for trampoline use. Different trampolines have specific weight capacities; exceeding these limits can increase the risk of injury.
One Person at a Time: To minimize the risk of collisions and accidents, allow only one person to use the trampoline at a time. Multiple users can disrupt balance and increase the chances of accidents.
Regular Maintenance: Inspect the trampoline regularly for any damages, such as tears in the mat or springs. Replace any worn-out or damaged parts promptly to ensure the trampoline remains safe.
Weather Conditions: Avoid using the trampoline during adverse weather conditions, such as strong winds, rain, or snow. Wet surfaces can make the trampoline slippery and increase the risk of accidents.
Training and Skill Development: Consider enrolling in trampoline classes or seeking guidance from a qualified instructor to learn proper techniques and safety precautions.
By following these safety considerations, you can minimize the risk of injuries and create a safer environment for trampoline use. Remember that safety should always be a top priority, and if any concerns or accidents occur, seek appropriate medical attention.
Recommendations for Effective Trampoline Use
Trampolines can be a fun and effective way to exercise and enjoy outdoor activities. Here are some recommendations to ensure effective and enjoyable trampoline use:
Warm-up and Stretch: Before using the trampoline, perform a brief warm-up routine to prepare your body for exercise. Include dynamic stretches to loosen up your muscles and increase flexibility.
Start Slow and Progress Gradually: If you're new to trampolining or haven't used one in a while, start with simple jumps and gradually increase the intensity and complexity of your movements as your confidence and skills improve.
Maintain Proper Form: Focus on maintaining good posture while jumping on the trampoline. Keep your back straight, engage your core muscles, and land with soft, controlled movements to reduce the risk of injury.
Vary Your Movements: Explore a variety of exercises and movements on the trampoline to engage different muscle groups and keep your workouts interesting. Incorporate jumps, twists, leg lifts, and arm movements to work your entire body.
Stay Hydrated: Remember to stay hydrated during trampoline sessions. Keep a water bottle nearby and take regular breaks to drink water and rehydrate.
Listen to Your Body: Pay attention to your body's signals and limitations. If you feel fatigued, dizzy, or experience any pain or discomfort, take a break and rest. Pushing yourself too hard can increase the risk of injury.
Gradually Increase Intensity and Duration: As you gain strength, endurance, and confidence, gradually increase the intensity and duration of your trampoline workouts. Challenge yourself with new exercises and longer jumping sessions.
Cool Down and Stretch: After your trampoline session, cool down with light exercises and static stretches to gradually lower your heart rate and promote muscle recovery. This can help reduce muscle soreness and stiffness.
Follow Safety Guidelines: Always adhere to the safety considerations mentioned earlier, including supervision, proper trampoline placement, using safety equipment, and maintaining the trampoline's condition.
Have Fun and Enjoy: Most importantly, have fun and enjoy your trampoline workouts. Embrace the joy of bouncing and the feeling of weightlessness, making each session an enjoyable and exciting experience.
Remember, trampolines can provide a great opportunity for exercise and recreation, but safety and proper technique should always be prioritized. 
By following these recommendations, you can maximize the effectiveness of your trampoline workouts while minimizing the risk of injuries.
FAQs:
Q:1 Does the trampoline increase height?
No, trampolines do not directly increase a person's height. Height is primarily determined by genetics, age, and other factors. However, trampoline exercise can promote overall fitness, strength, and flexibility, which may contribute to better posture and a taller appearance.
Q2: Can trampoline exercise stimulate growth in children?
Trampoline exercise alone does not stimulate growth in children. Genetics, age, hormones, and proper nutrition primarily influence growth. Trampoline exercise can contribute to overall fitness and healthy development but does not directly impact height growth.
Q3: Is it possible to increase height by using a trampoline?
Trampoline use alone cannot significantly increase a person's height. Various factors, including genetics and age, determine height. While trampoline exercise can improve strength, flexibility, and posture, it does not directly impact height growth.
Q4: Are there any risks or precautions associated with trampoline use?
Yes, trampolines carry some risks, especially when used improperly or without proper safety measures. It is important to follow safety guidelines, use a safety enclosure, and supervise children while using trampolines to minimize the risk of injuries.
Q5: Can trampoline exercise stunt growth in children?
When used with proper safety precautions, trampoline exercise is unlikely to stunt a child's growth. However, it's important to avoid accidents or injuries that could potentially affect growth. 
Following safety guidelines and providing proper supervision can help minimize the risk of growth-related issues.
Conclusion:
In conclusion, while jumping on a trampoline may not directly increase your height, it can contribute to overall growth and development in several ways. The repetitive bouncing motion stimulates the release of growth hormones essential for bone health and development. 
Trampoline exercise also promotes muscle strength, flexibility, and coordination, which are important factors in maintaining proper posture and maximizing height potential.
However, it's important to note that genetics and age play a significant role in determining a person's ultimate height. Jumping on a trampoline alone cannot override these factors or guarantee a significant height increase beyond an individual's genetic potential.
Safety should always be a priority when using a trampoline, especially for children. Following safety guidelines, using safety nets, and providing proper supervision can help prevent injuries that may impact growth or height potential.
While trampoline exercise can be a fun and beneficial activity for overall fitness, it should be considered part of a well-rounded approach to promoting growth and development, including a balanced diet, proper nutrition, adequate sleep, regular exercise, and overall healthy lifestyle habits.
Ultimately, if you have concerns about your height or growth, it's recommended to consult with a healthcare professional who can provide personalized advice and guidance based on your circumstances.
We hope you will be aware that "Does jumping on a trampoline make you taller", after reading this comprehensive article. If you have any questions, feel free to comment below!