If you want to know what is the best trampoline park? A trampoline park is an excellent spot for having a blast and getting some exercise, whether you're a kid or an adult. Visiting the finest trampoline parks on the weekend is a fantastic way to shake off boredom and have a truly refreshing experience. 
It's an ideal place for kids to spend quality time with their family and friends, and they can also pick up valuable skills and good manners by interacting with other children. That's why trampoline parks are gaining immense popularity across the United States.
Trampoline parks offer various play options, cafes, dedicated areas for birthday parties, and various other attractions. No matter who you are, there's something for everyone at these parks, ensuring you'll find your own space to have an incredible time.
What is the Best Trampoline Park: Trampoline parks are a popular choice for recreational activities with family, friends, colleagues, and classmates. They offer fun, energetic, exciting sports, entertainment, and exercise environments.
What is a Trampoline Park?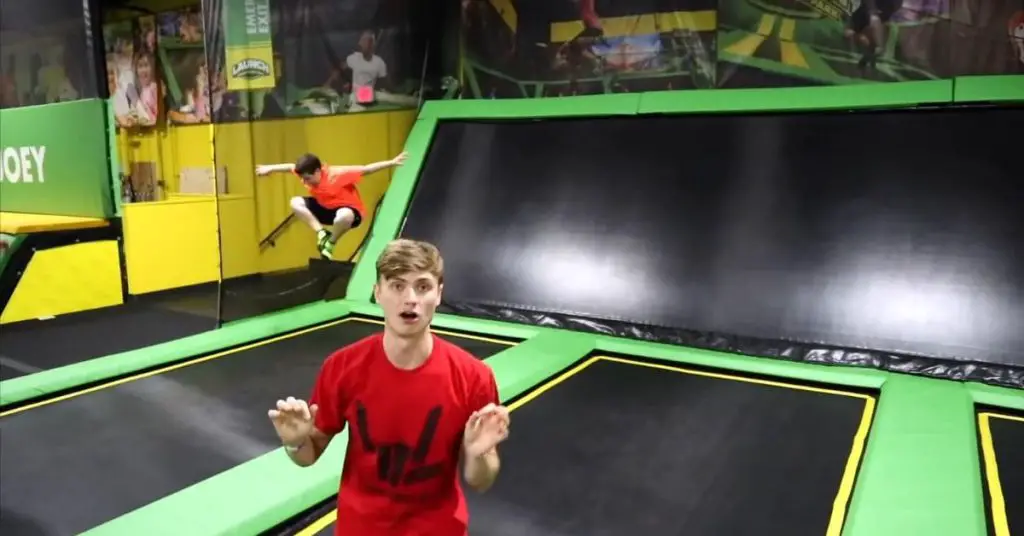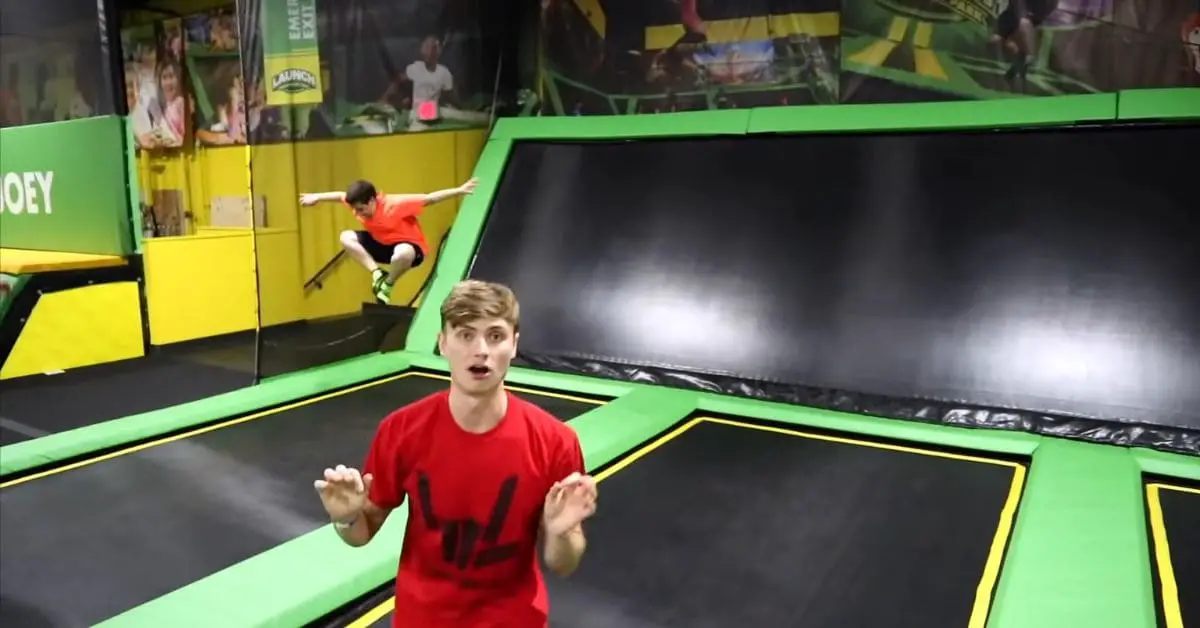 A trampoline park is an indoor facility with numerous trampolines and various attractions. It provides a controlled and safe environment for individuals of all ages to engage in recreational activities such as jumping, bouncing, and performing acrobatic movements.
10 Best Trampoline Parks: All over the World
Below is a list of the top 10 trampoline parks that are widely popular worldwide:
1. The Abenteuerland Trampoline Park:
Abenteuerland Trampoline Park, located in Bispingen, Germany, is a modern and exciting trampoline park that opened in 2019. Spanning 1,460 square meters, it offers a wide variety of attractions and activities suitable for the whole family.
Visitors can experience thrilling adventures by climbing a large climbing wall, conquering a high rope course, testing their skills on the ninja course, or enjoying the toddler area. The park is designed to cater to different interests and age groups, ensuring there's something for everyone.
Among the attractions available are high-performance trampolines, an interactive climbing wall called Augmented Climbing Wall, a balance area featuring the Battle Beam, Slackline, and Climbing Ladder, a ropes course, a slam dunk area, a big climbing wall with a big airbag, a ninja course, a trapeze swing, and the exciting Wall or Twisted Bouncy World.
Abenteuerland Trampoline Park offers a mix of traditional trampoline modules and digitally equipped ones, adding extra excitement for younger visitors. They can compete with their peers, play fun games, and even set new records.
The design incorporates the side walls and ceiling to maximize the park's capacity and enhance the overall experience. Additionally, a rope course and a rope slide have been installed. 
The park can accommodate up to 150 visitors per hour, ensuring everyone can enjoy the activities to the fullest.
2. Trampoline Park Sky Zone: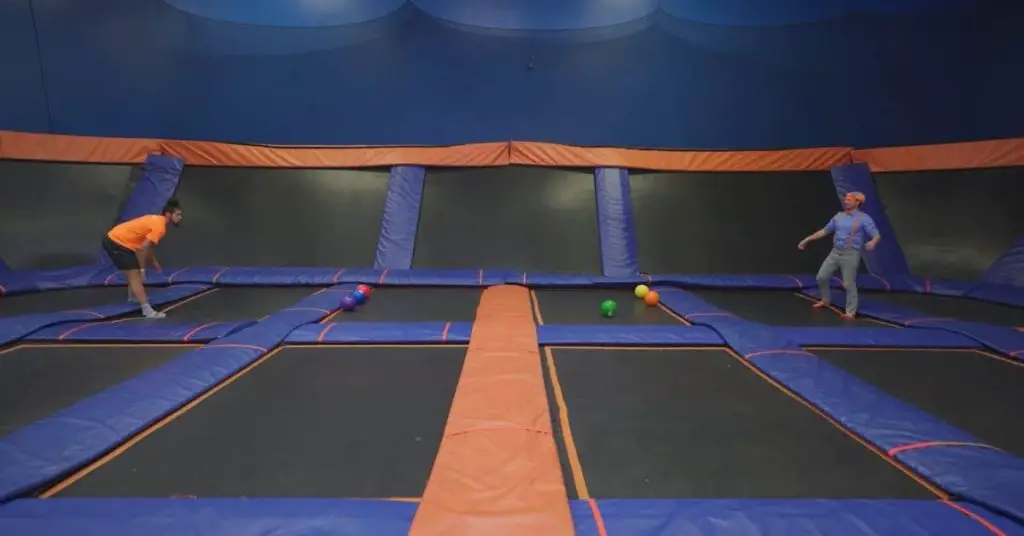 Sky Zone is a renowned trampoline park with numerous locations worldwide, offering exceptional recreational experiences for visitors of all ages. Founded by entrepreneur Rick Platt in the Las Vegas Valley, the first Sky Zone trampoline park boasted an impressive 17,000 square feet of space.
Sky Zone is dedicated to constant innovation, ensuring guests have exciting and challenging ways to play and have fun. With their wall-to-wall aerial action concept, they have become leaders in the industry.
At Sky Zone Trampoline Park, you'll find multiple trampoline courts designed for a variety of activities. Safety is a top priority, as each trampoline's springs are covered with mats to prevent any accidental falls into the gaps.
With its commitment to providing thrilling and safe experiences, Sky Zone has earned its reputation as one of the best trampoline parks in the world.
3. The Trampoline Park Altitude:
Altitude Trampoline Park is an exceptional trampoline park that offers a wide range of amenities. While primarily based in the United States with over 90 branches, they also have international parks in countries like Panama, Mexico, Argentina, and Spain. 
Each park's size, cost, and attractions may vary depending on the location. Tickets can be purchased either at the park or online for convenience. 
Altitude Trampoline Park also allows you to book the park for parties or events, providing a fantastic venue for special occasions. Additionally, the park features a well-equipped café where you can grab a bite to eat.
For instance, the Billerica, Massachusetts Indoor Altitude Park is a spacious trampoline park covering 30,000 square feet, including a vast interconnected trampoline jump space spanning 15,000 square feet. 
The Tampa, Florida Altitude Park offers a plethora of attractions such as Performance Trampolines, Battle Beam, Extreme Dodgeball, Gymnastic Tumble Track, Foam Pit, Kid's Court, Main Court, Rock Wall, Trampoline Basketball, Trampoline Swing, and Zip Line, ensuring there's something for everyone to enjoy.
4. The Trampoline Park Helium: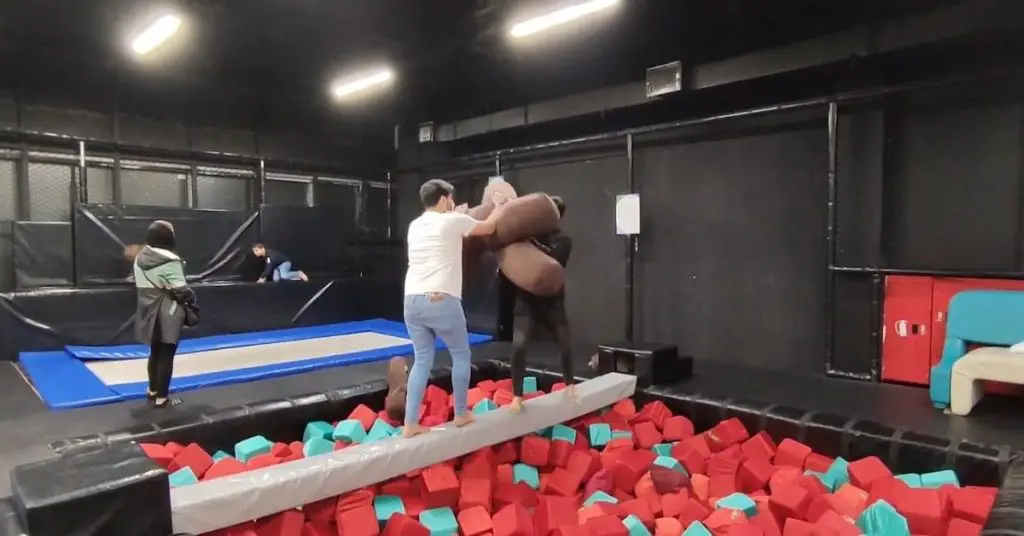 Helium Trampoline Park, located in New Berlin, Wisconsin, has become a favorite destination for entertainment in the greater Milwaukee area. Spanning 2,322 square meters, the park offers a wide range of exciting features and attractions.
Inside the park, you'll find an impressive 130 interconnected trampolines, two dodgeball courts covering 2,000 square feet, a foam pit measuring 750 square feet, a rock-climbing wall, and a dedicated area for pizza and concessions.
Visitors can engage in thrilling activities like basketball and dodgeball, which include an exciting twist of the "Glow in the Dark" performance at Helium Park. The park also offers popular attractions such as a ninja track, laser tag, zorbing, and bungee jumping.
The trampoline system at Helium Park features improved bounce, added curves, tumbling options, and delightful surprises. Additionally, there's a state-of-the-art Warrior Course with three levels of the Warped Wall, Ultimate Dodgeball, Slam Dunk Basketball, the Gladiator Joust Beam, the Walk The Plank Jump Tower, a Hurricane simulator reaching speeds of up to 125 km/h, a Big Air Bag, and a dedicated Tiny Tot court for younger visitors.
One particularly popular module is the ninja warrior track. At the same time, for those who fear heights, there's a tall tower from which they can jump into a large, cushioned, inflatable landing area, providing a thrilling experience.
Helium Trampoline Park offers various activities for visitors of all ages, ensuring an unforgettable and enjoyable time for everyone.
5. Urban Air Trampoline Park: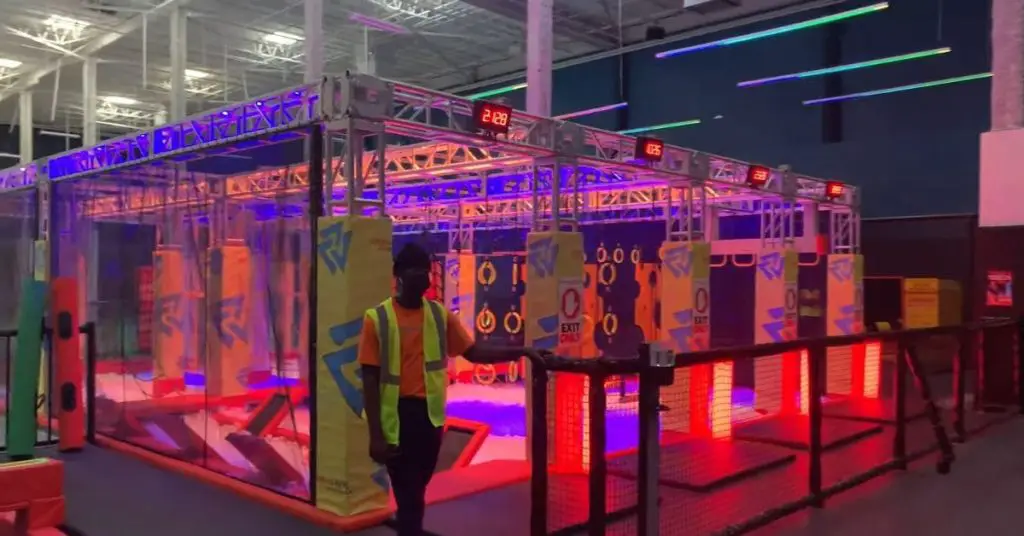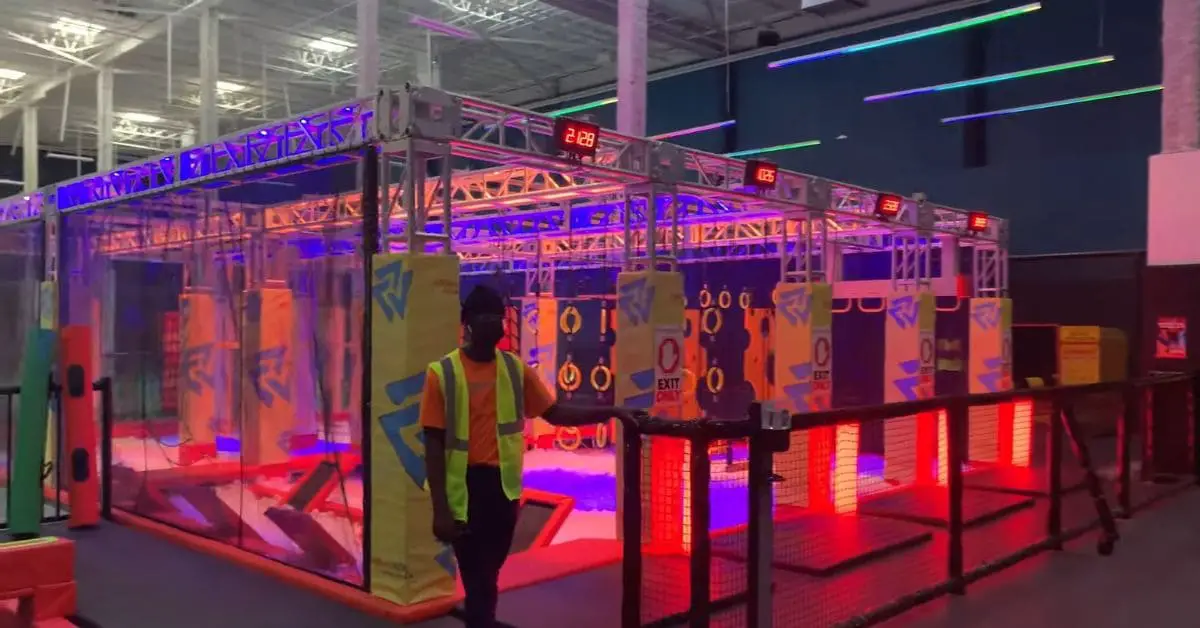 Urban Air Trampoline Park is not your average jumping area. It provides a top-notch indoor adventure park that caters to people of all skill levels, whether locals or tourists.
In addition to the thrilling jumping experience, Urban Air offers many attractions and courses. Here are some of the exciting features you can expect:
Enjoy a variety of fun arcade games alongside the trampoline activities.
Experience the adrenaline rush of jumping into a soft foam pit from elevated platforms.
Challenge yourself by scaling the walls of your climbing courses.
Bounce on their specialized trampolines designed for maximum height and airtime.
Engage in competitive dodgeball games on the trampolines.
Show off your basketball skills by dunking on their trampoline-assisted hoops and platforms.
And many more attractions to explore and enjoy.
If you're planning a birthday celebration, Urban Air Trampoline Park is the perfect venue. They offer party packages, allowing you to easily arrange and book your special event. For any inquiries or further details, you can visit their website.
6. Trampoline Park Flip N Out Xtreme:
If you're a Las Vegas, Nevada resident, Flip N Out Xtreme Park is the perfect place for exciting and enjoyable fun. Spanning an impressive 15,000 square feet, it is one of the largest trampoline parks in Las Vegas and offers two convenient locations in Henderson and Summerlin.
The park boasts a wide range of attractions, including Trampoline Sport, Dodgeball, an Activity Center, Laser Tag, Axe Throwing, a Rage Room, a Café, an Xtreme Skills Ladder, and more.
For families looking to celebrate and have a great time together, Flip N Out Xtreme Park provides awesome family activities within dedicated zones. One of the highlights is the 5-level laser tag arenas.
Each package includes full access to the park and comes with a 10-guest pass, ensuring everyone can join in the fun.
Safety is a priority at this indoor trampoline park, making it suitable for kids. Additionally, the spacious arena allows people of all ages to have a fantastic time. So, whether you're seeking thrilling adventures or a memorable family outing, Flip N Out Xtreme Park has something for everyone.
7. Trixs Leiderdorp Trampoline Park: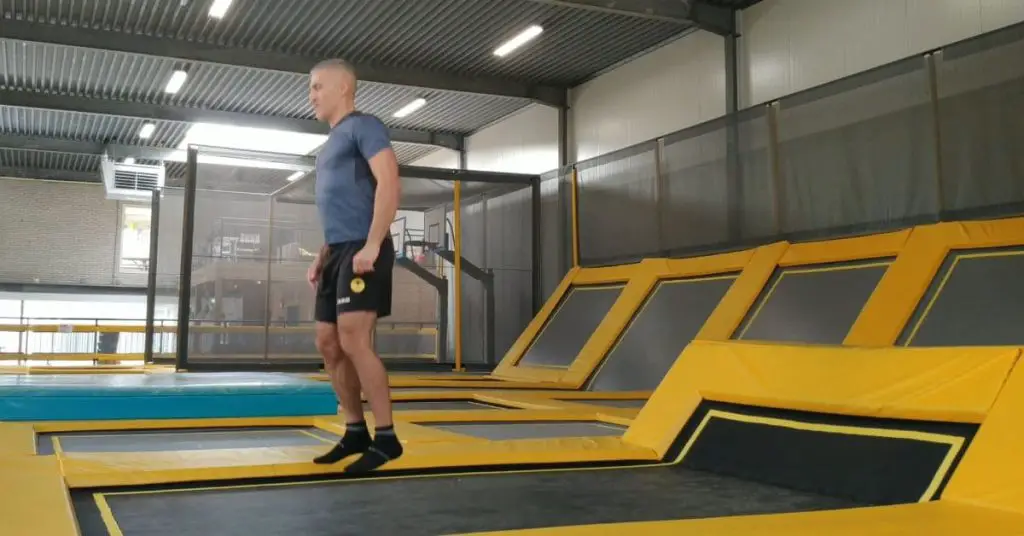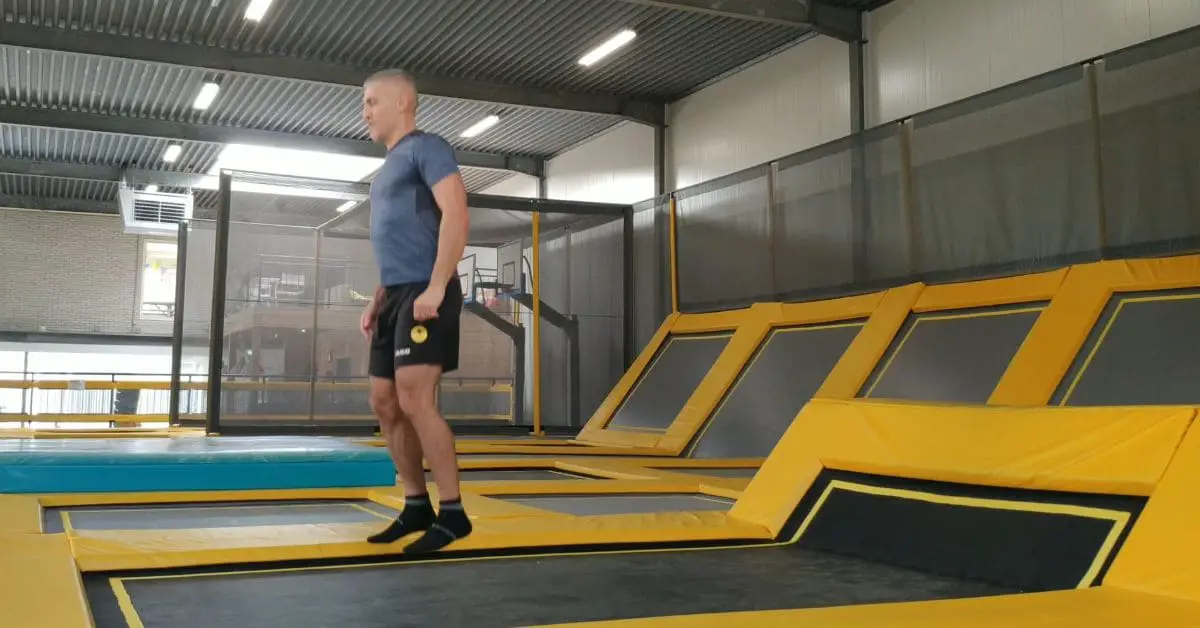 Located in Leiderdorp, the Netherlands, Trixs Leiderdorp Trampoline Park is a vibrant and welcoming destination for jumping enthusiasts. Its spacious area of 1,330 square meters makes it the ultimate go-to spot for all your jumping needs.
The entire trampoline park is adorned with a warm and inviting yellow color scheme. Families are drawn to the large and colorful toddler area, while teenagers can showcase their skills on the Hexia trampolines. 
The free jump zone is connected by 40 trampolines, a 12-meter track, and a large air cushion, providing a safe space for visitors to practice their tricks and enjoy high-flying jumps.
In addition to the main attractions, Trixs Leiderdorp Trampoline Park offers special high-performance trampolines for even more height and power. You'll also find popular features like ninja tracks, competitive games, and climbing areas that are familiar from other trampoline parks.
But that's not all! The park also boasts an indoor beach, where visitors can engage in exciting activities such as football, tennis, volleyball, hockey, frisbee, and even giant twister.
At Trixs Leiderdorp Trampoline Park, you're guaranteed a fun-filled experience that caters to visitors of all ages and interests.
8. The Trampoline Park Cyberjump:
Cyberjump Trampoline Park is a massive facility spanning over 3,000 square meters, with a dedicated jumping area of 1,400 square meters. It offers a wide range of activities and equipment that cater to all ages, ensuring a fantastic leisure time for everyone.
What can you expect at Cyberjump?
Jump and bounce freely on a spacious trampoline area.
Engage in the exciting game of Slamball, combining basketball and trampolines.
Take your jumps to new heights and perform impressive tricks.
Test your strength and agility on challenging obstacle courses inspired by the popular TV show.
Engage in friendly battles while trying to knock opponents off the beams.
Dive into a pool with soft sponges for a fun and safe landing.
Experience the thrill of jumping into a large air-filled bag.
In addition to the thrilling attractions, Cyberjump Trampoline Park also provides amenities to enhance your experience. They have a bistro where you can grab delicious food, a relaxing lounge area, and changing rooms for convenience. Moreover, they offer an event area where you can book a special occasion to create a unique and memorable experience.
At Cyberjump Trampoline Park, get ready to unleash your energy and blast with various exhilarating activities.
9. Trampoline Park Rockin' Jump: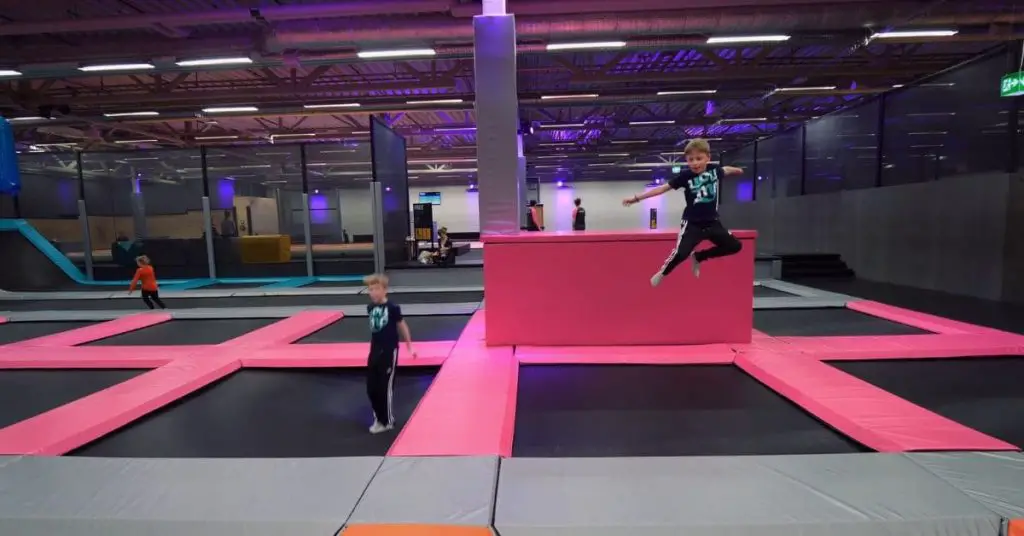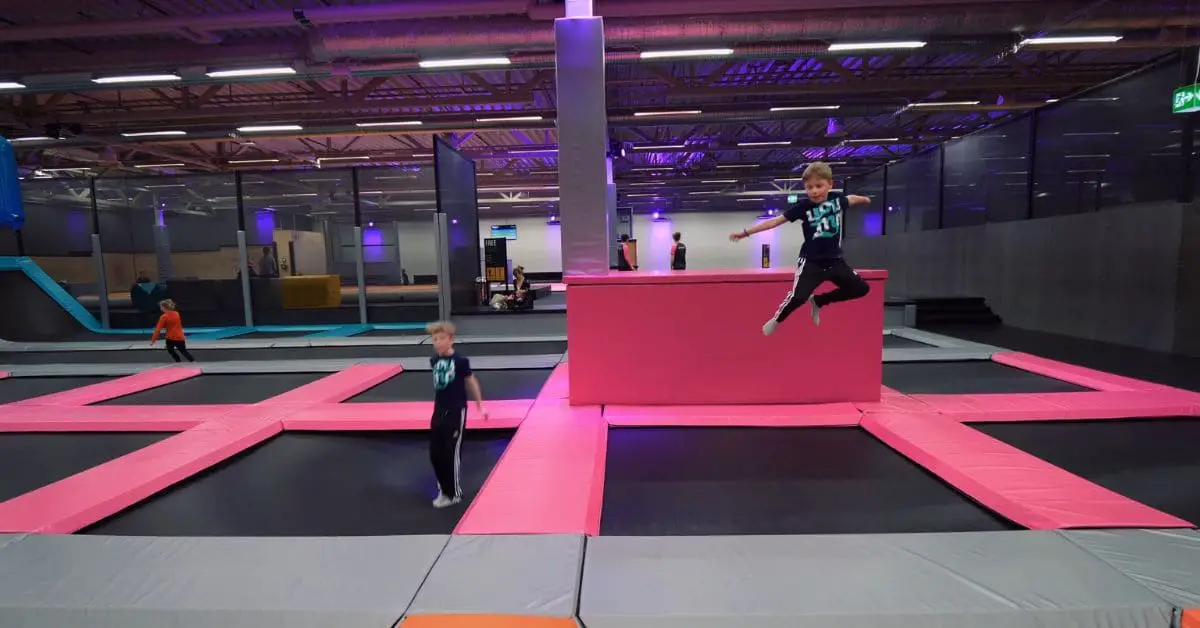 Rockin' Jump indoor trampoline park has been a beloved destination for fun and excitement for many years. Formerly known as Airbound Trampoline Park, it has expanded its reach with 39 locations across the USA, including Brentwood, El Paso West, Roseville, Dublin, and more.
At Rockin' Jump, you'll find many attractions that cater to all ages. The Jump Arena is a must-visit, where you can bounce and leap to your heart's content. 
Engage in exhilarating dodgeball matches at the Dodgeball Arena, or test your basketball skills at the Slam Dunk Zone. For thrill-seekers, the Vertical Ops and Vertigo Climbing areas offer exciting climbing challenges. 
Challenge yourself on the Ninja Course, conquer the X-Beam, or dive into the Stunt Bag Arena for some daring stunts. Other attractions include Aerial Silks, Slackline, and the Traverse Wall.
Rockin' Jump also features a coffee shop with complimentary Wi-Fi to keep you fueled and refreshed, allowing you to relax and recharge during your visit.
Visit Rockin' Jump Trampoline Park and experience endless entertainment and excitement for kids and adults.
10. Trampoline Park AirMaxx:
Both parks have over 1,000 square meters dedicated to the jumping area, providing ample room for endless fun.
In addition to the traditional elements, they offer exciting activities like laser tag and a classic American arcade with digital games.
In Eden Prairie, you can challenge your friends to laser tag, navigate through a cosmic mini golf course, or enjoy the excitement of a large arcade featuring mini bowling and a thrilling laser maze.
In St. Cloud, guests can test their skills on a Ninja Warrior Course, engage in dodgeball matches, perform gravity-defying dunks on trampolines, and younger ones can have a great time at the Kids Town Indoor Playground.
With various attractions, these parks cater to sports enthusiasts and those seeking leisurely entertainment. Thrill-seekers can enjoy adrenaline-pumping activities like ninja lines, inflatable pillows, trapeze, and more.
What is the Best Trampoline Park: Factors to Consider
When determining the best trampoline park, there are several factors to consider:
Safety:
Safety is a crucial factor to consider when choosing the best trampoline park. It is important to prioritize parks that prioritize safety measures and equipment. Look for parks with safety nets, padded surfaces, and well-maintained trampolines. 
Trained staff and proper supervision are also essential to ensure a safe environment for all visitors. Additionally, check if the trampoline park has certifications and complies with safety standards set by relevant authorities.
Park Features and Attractions: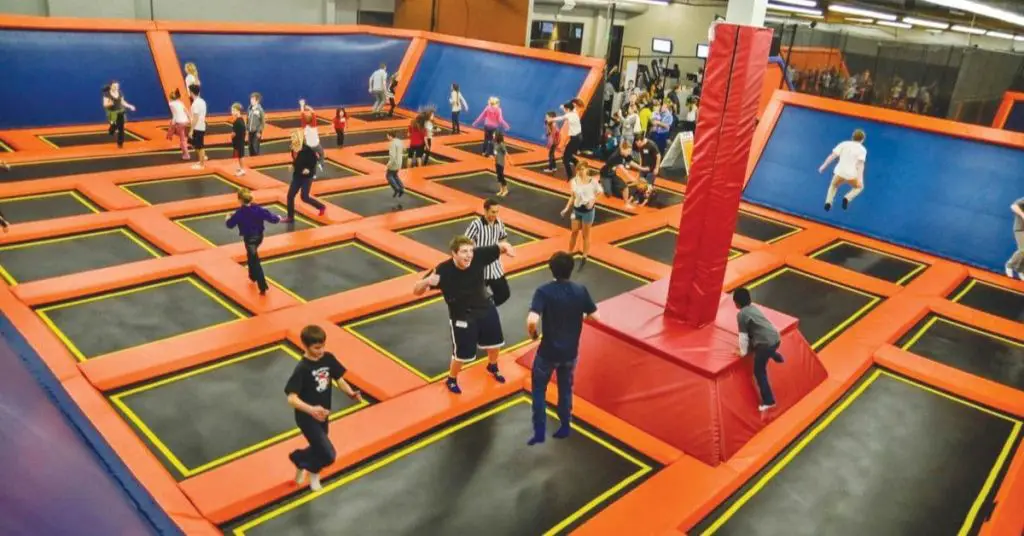 The variety of trampolines and additional attractions offered at the park can greatly enhance the overall experience. Look for trampoline parks with a wide range of trampolines in sizes, shapes, and types. This ensures there is something for everyone, from beginners to advanced jumpers. 
Consider parks offering additional activities such as dodgeball, foam pits, obstacle courses, and special attractions like climbing walls or laser tag. These features add excitement and variety to the trampoline park experience.
Facility Size and Layout:
The size and layout of the trampoline park play a significant role in the enjoyment of visitors. Ample space for jumping and maneuvering is important to avoid overcrowding and collisions. 
Look for parks with a clear separation of areas for different activities, allowing visitors to engage in their preferred activities without interference. Capacity management is also crucial to ensure a comfortable and enjoyable experience for all guests.
Pricing and Packages:
Consider the pricing and packages offered by the trampoline park. Compare admission fees and pricing structures to find a park that fits your budget. Some parks may offer membership options or discounts for frequent visitors, which can provide long-term value. 
Additionally, check if the park offers party and group packages, which can be convenient for hosting special events or gatherings.
Reviews and Reputation:
Take the time to read online reviews and ratings from customers visiting the trampoline park. Their feedback can provide insights into the park's overall quality, customer service, and safety measures. 
Word-of-mouth recommendations from friends, family, or local community members can also help gauge the park's reputation and reliability. A trampoline park with positive reviews and a strong reputation will likely offer visitors a great experience.
Additional Considerations
In addition to the factors mentioned above, there are a few additional considerations to keep in mind when determining the best trampoline park:
Age Restrictions and Accessibility
Trampoline parks may have certain age restrictions and requirements for different areas or activities within the park. This is important to ensure the safety and well-being of all visitors. 
Some areas or activities may be specifically designed for younger children, while others may be more suitable for teenagers or adults.
Additionally, a trampoline park needs accessibility features to accommodate individuals with disabilities, ensuring that everyone can participate and enjoy the park's offerings.
Food and Refreshments
Having access to food and refreshments within the trampoline park can enhance the overall experience for visitors. Whether it's a snack bar or on-site dining options, the availability of quality food and beverages is important. 
A diverse menu with options for different dietary preferences and restrictions can cater to a wide range of visitors, ensuring that they have the energy to enjoy their time at the park.
Party and Event Facilities
Trampoline parks often serve as popular venues for parties and events. Having dedicated party rooms or event spaces can make planning and hosting special occasions much easier. 
The services provided for birthday parties, corporate events, and other gatherings should be well-organized and catered to the event's specific needs. 
Offering customization options and party packages can allow visitors to create a memorable and personalized experience for their guests.
Special Offers and Promotions
Trampoline parks may provide special offers and promotions to attract visitors and provide added value. These can include seasonal discounts, loyalty programs, or rewards for frequent visitors. 
Hosting special events or themed nights can also create a unique and exciting atmosphere for guests. Keeping an eye out for these offers can provide cost savings and additional enjoyment when visiting the trampoline park.
Customer Service and Staff Interaction
The level of customer service and staff interaction can significantly influence the overall experience at a trampoline park. Friendly and helpful staff members contribute to a positive and welcoming atmosphere. 
Their responsiveness to customer inquiries or concerns is crucial for addressing any issues promptly. The overall customer experience and satisfaction depend on the professionalism and attentiveness of the staff throughout the visit.
FAQs:
Q:1 Are trampoline parks safe?
Trampoline parks prioritize safety and have measures to reduce the risk of injuries. They use safety equipment, such as padding and nets, and have trained staff to supervise and enforce safety rules.
Q:2 What attractions and activities can I expect at a trampoline park?
Trampoline parks offer a variety of attractions, including open jump areas, foam pits, dodgeball courts, climbing walls, ninja courses, and more. The specific offerings may vary from park to park.
Q:3 Are there age restrictions for certain activities?
Yes, trampoline parks often have age restrictions for certain activities to ensure the safety of participants. Some areas or activities may have specific age requirements or height restrictions to ensure everyone can enjoy the park safely.
Q:4 How much does it cost to visit a trampoline park?
Admission fees vary depending on the trampoline park and the duration of the visit. They may offer different pricing options, such as hourly rates or day passes. It's best to check the park's website or contact them directly for pricing details.
Q:5 Can I host a birthday party or special event at a trampoline park?
Yes, many trampoline parks have party packages and event spaces available for birthdays and other special occasions. They often provide dedicated party rooms, catering options, and activities tailored to the event. Contact the park in advance to inquire about availability and pricing.
Q:6 Are there any discounts or promotions available?
Trampoline parks may offer discounts or promotions at certain times, such as weekdays or off-peak hours. They may also have loyalty programs or special offers for frequent visitors. Check their website or social media pages for any ongoing promotions.
Q:7 How can I ensure a positive experience at a trampoline park?
To have a great experience, follow the safety guidelines and rules the park provides. Wear appropriate clothing, listen to the staff's instructions, and respect other visitors. It's also recommended to check the park's website for any additional guidelines or requirements before your visit.
Conclusion:
In conclusion, when considering the best trampoline park, it's important to prioritize safety, variety of attractions, facility size and layout, pricing and packages, reviews and reputation, as well as additional considerations such as age restrictions, food and refreshments, party and event facilities, special offers and promotions, and customer service.
Ensuring a safe environment with proper safety measures and trained staff is crucial for an enjoyable experience. The availability of diverse attractions and activities adds excitement and entertainment value. 
Considering the facility's size and layout helps ensure ample space for jumping and clear separation of different areas. Pricing and packages should be reasonable and offer options that cater to individual needs.
Checking online reviews and considering the park's reputation within the community can provide insights into the experiences of previous visitors. Additional considerations like age restrictions, accessibility features, food options, party facilities, special offers, and customer service contribute to an overall positive experience.
Ultimately, the best trampoline park will vary based on personal preferences and requirements. It's recommended to research different parks, visit their websites, and even reach out to them directly for any specific inquiries. 
By considering these factors and conducting thorough research, you can make an informed decision and find the best trampoline park that aligns with your needs and provides an enjoyable and safe environment for jumping and fun.
We hope you will be well aware of what is the best trampoline park after reading this comprehensive article. If you have any questions, feel free to comment below!